Posted on
Mon, Mar 15, 2010 : 4 p.m.
Protein in bananas could help block spread of HIV, University of Michigan researchers say
By Tina Reed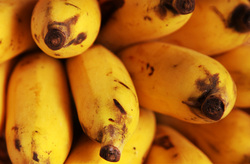 University of Michigan researchers believe a chemical found in bananas could help block the sexual transmission of HIV.
In a recent study looking at lectin, a protein found in fruits and vegetables, the researchers found banana lectin specifically targets and binds to HIV molecules, keeping HIV from binding to other cells in the body.
It needs further study, but the finding could be a key building block in creating a topical microbicide that could be applied before sex to reduce a person's chances of contracting the disease.
In a study to be published in the Journal of Biological Chemistry, the researchers say the banana lectin, or BanLec, was as potent as two other microbicides that have been already been developed but had other problems associated with them.
Furthermore, they say, the substance has the potential to be cheaper to produce than typical anti-HIV synthetic molecule medications and might block more types of the virus from being spread as it mutates.
The findings are especially important because creating cheaper, more-effective prevention methods for HIV, even if they're only used by a modest number of people, could save many lives, said David Markovitz, senior author and U-M professor of internal medicine.
"Women in the developing world have little control over whether or not men use a condom," Markovitz said. Finding an HIV-inhibitor that could block the transmission of the disease using a topically applied vaginal microbicide could help give them a better chance of preventing infection, he said.
The World Health Organization estimates 33.4 million people were living with HIV at the end of 2008, including 2.7 million who were newly infected with HIV. Two-thirds of those HIV infections were in sub-Saharan Africa.
It's increasingly common for certain proteins found in fruits and vegetables, called lectins, to be found to have specific scientific purposes.
The group began examining the banana protein as an inhibitor for HIV because it is known to have a tendency to bind with a certain sugar. HIV is a unique virus because it has such a high concentration of that type of sugar, Markovitz said.
Their work showed that when the banana lectin bound to the HIV virus, it made the virus unable to bind to other cells in the body —Â thus blocking transmission of the virus, said lead author Michael D. Swanson, a doctoral student in the graduate program in immunology.
Other researchers have been working with lectins, as well as other substances, with the goal of blocking transmission of HIV, Swanson said.
It is possible that eventually the U-M researchers' work with banana lectin could result in a component that is combined with other HIV-blocking substances to create a prevention therapy, Swanson said.
Much more testing is necessary to determine the proper concentrations of the banana protein and to test it within the lab and on animals. Such testing would put any such HIV blocking therapy created from U-M's banana lectin work at least five years down the road, Markovitz said.
Despite the potential the researchers see for development of a microbicide, the gold standard for HIV prevention is really consistent condom usage and ultimately the creation of a vaccine, which has proved very difficult, Markovitz said.
"It's proven very hard to do. It's been a maddeningly slow process trying to develop a vaccine against HIV," Markovitz said.
But In the meantime, this could be part of another solution to slowing the transmission of the disease, he said.
Tina Reed covers health and the environment for AnnArbor.com. You can reach her at tinareed@annarbor.com, call her at 734-623-2535 or find her on Twitter @TreedinAA.