Posted on
Mon, Oct 24, 2011 : 5:57 a.m.
Memory care community focuses on each resident, on what they enjoy today
By Alan Caldwell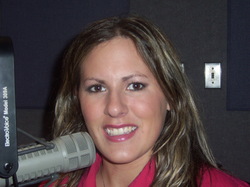 We had an informative and fun show this past weekend. Our first guest was Lindsay Mann-Shanahan, the Sales and Marketing Manager at Clare Bridge in Ann Arbor. Clare Bridge is part of the national Brookdale Senior Living organization, and is exclusively a memory care community.
They take care of folks with dementia and Alzheimer's disease. It is a secure community, as most of the residents are considered to be in a mid- to end-stage of the disease and may be at risk of wandering.
Clare Bridge is small and intimate, with just 36 residents. We loved how Lindsay said she has "36 grandmas and grandpas." She obviously enjoys her job, and loves each of the residents at Clare Bridge.
As appropriate for people with later stage dementia, staff at Clare Bridge work to customize programs for each specific resident. Lindsay talked about really getting to know who they are and what their interests are. And it's not about what they used to like doing, it's about what they enjoy and appreciate today.
Clare Bridge is hosting an education seminar on veterans benefits, including the Aid & Attendance benefit. This benefit is for war-time veterans. For those that qualify, it provides significant financial assistance for whatever type of care is required.
The event is Thursday, Nov. 3, from 3 to 5 p.m. at the Clare Bridge community, at 750 W. Eisenhower Parkway. Michael Smith Jr. and Sean Sturgeon from the Washtenaw County Department of Veterans Affairs will both speak.
To listen to our 13-minute discussion, click the audio link:


To get in touch with Lindsay or Clare Bridge (or to RSVP for the veterans seminar), call 734-213-1708, or visit their website brookdaleliving.com.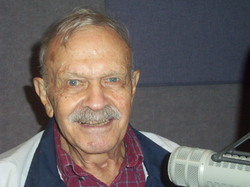 Photos by Sheila Doeden
We next had a lively talk with Bob Faber. Bob writes the Senior View column for AnnArbor.com.
Bob has lived in our city since 1954, when he and his wife moved here and opened Faber's Fabrics on Main Street in downtown Ann Arbor. He shared how his wife was very pregnant at the time. She delivered their baby at 7 a.m. on a Monday morning, and Bob opened their new store for business that same morning at 9 a.m.
Bob did fabrics for 29 years, until the in-home sewing business declined. He then went into the travel business, and that lasted until everyone got in-home computers and did their own travel plans. His current job is retirement, which we gathered he continues to enjoy very much.
We talked about the importance of elderly folks staying mentally and physically active. Writing his AnnArbor.com column helps keep Bob mentally sharp. He shares his expertise on aging (and we know he provides lots of good advice).
On the physical side, he is an active golfer. He may not be on the senior PGA tour, but he enjoys it. The thrill of the competition is still important, even if your just competing against the score you hit yesterday.
We chatted about the wonderful community Ann Arbor is for seniors. It's not just the great medical facilities, but the University has so much to offer. The classes, the events, there are so many educational and entertainment options.
To listen to this 13-minute talk, click the audio link:
To contact Bob Faber, his e-mail address is rgfaber@comcast.net.
Alan Caldwell and Sheila Doeden co-host Everything Elderly every Saturday morning at 8:30 on 1290 WLBY. In their day jobs, Alan and Sheila co-own and co-manage Senior Helpers, providing in-home care services, primarily to the elderly. Both can be contacted at homecareexcellence@seniorhelpers.com, or at 734-927-3111.