Posted on
Sat, Apr 2, 2011 : 1:46 p.m.
New 'CarePartner' program at 2 University of Michigan clinics benefits patients with depression
By Juliana Keeping
Individuals suffering with depression often stop taking their medication once they feel better.
It's a common problem, said John Piette, a professor of internal medicine at the University of Michigan Medical School, because patients may or may not update their doctor, and then they start feeling bad all over again.
That's where a friend or relative can step in to help, using a new program to fill the gaps when it comes to management of the disease.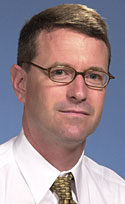 University of Michigan photo
Patients who enroll in the
CarePartner
program enlist a trusted individual in their life to check-in on them and help manage depressive symptoms.
The program entails the patient completing an automated telephone assessment each week. The patient would receive immediate feedback on their condition. If they reported something that needed immediate attention, like thoughts of suicide or self-harm, or adverse side effects to medication, the system would connect them to an appropriate medical or professional resource.
Following each weekly call, the partner in care would receive an e-mail update on the patient's condition, along with advice on how to help their friend or loved one stay the course when it comes to treatment. It also encourages the patient and care partner to set up a time for a weekly phone check-in.
The program is a new offering to patients with depression at U-M's West Ann Arbor Heath Center, 4900-A West Jackson Road, and Saline Health Center, 700 Woodland Drive East in Saline. If the program is successful at these sites it might be expanded, Piette said.
The technology was developed by the Quality Improvement for Complex Chronic Conditions group, directed by Piette and supported by the Veteran's Administration Ann Arbor Healthcare Center and U-M.
"We need to empower the other people are around someone living with a disease like depression, so they know what they can do to help and fill the gaps in care," said Piette, who is also a senior research scientist at the Ann Arbor VA.
"Their family members can do things the doctor can't. They're there day to day, and have a different perspective."
Similar programs developed locally have had success when it comes to managing chronic conditions, such as diabetes, Piette said.
Juliana Keeping covers general assignment and health and the environment for AnnArbor.com. Reach her at julianakeeping@annarbor.com or 734-623-2528. Follow Juliana Keeping on Twitter