Posted on
Mon, Nov 5, 2012 : 5:57 a.m.
Managing your money carefully is critical to an enjoyable and stress-free retirement
By Alan Caldwell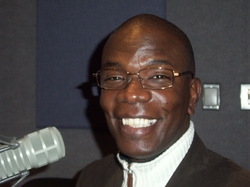 Managing your money wisely is critical to ensuring the later years of your life are enjoyable and stress-free. To that end, Brian Royster provided financial advice on the radio program this past weekend. Brian is a financial advisor with Edward Jones, whose office is on West Ellsworth Road, near the Ann Arbor Airport, across the street from the new Costco.
Brian talked about the election and its potential impact on the market and economy. Historically, when the Democrats control the White House and the Congress, the stock market usually does better. When the Republicans control the White House and the Congress, inflation is lower. As Brian made clear, no matter what the presidential candidates promise, they still need house and senate approval before anything happens.
Brian talked about the financial risks in retirement. Longevity risk is the danger of outliving your money, while inflation risk is the degree inflation erodes the purchasing power of your money. There are also risks of market fluctuations and lower interest rates. These risks can be managed with a combination of diverse investments, including owning a mix of short-, medium-, and long-term maturities. It is also advisable to have rising dividend investments to stay ahead of inflation.
We learned to not chase the "hot investments." As Brian said, "By the time you find out about them, they are already cooling off."
We talked about the automotive retirees in this area, and how many are being asked if they want to buy out their pension for a lump sum payment. Brian has already seen most individuals opting for the lump sum payment. The payment of the pension usually stops when the individual passes away, while the lump sum is passed on to your beneficiaries.
To hear this 13-minute discussion, click the audio link:
To get in touch with Brian Royster or Edward Jones, call 734-995-3306 or access the website edwardjones.com.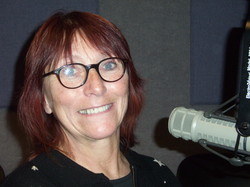 Photos by Sheila Doeden
We were privileged to have Chris Rockwood join the program next. Chris is the program coordinator for the Grandparents as Parents (GAP) program with Catholic Social Services. Chris talked about how grandparents that are parenting grandchildren often feel they are all alone. This is simply not true, as Chris pointed out that one out of nine children is being raised full or part time by a grandparent.
The Grandparents as Parents program provides assistance in so many ways and is able to do so with the very generous help of community organizations and volunteers. They offer free support groups throughout the county. They have books available and tickets for some local events to allow grandparents to treat their grandchildren to special outings. Chris also talked about services available through the Catholic Social Services Neighbor to Neighbor program, primarily to help seniors older than 60 keep their homes well maintained and safe. These services are charged on a sliding scale based on income. They use licensed certified installers for grab bars, railings, new faucets — whatever seniors need to stay safe in their own home.
Seniors can also receive assistance for income tax preparation. Catholic Social Services helps about 1,000 people in Washtenaw County annually with this chore. As for most of their services, volunteers provide the manpower (brainpower!) for the tax preparation program.
Chris shared the details for a wonderful upcoming event, the National Family Caregivers Recognition Day on Sunday, Nov. 11, from 1:30 to 4:30 p.m. This special event will be held at the Senior Health Building (5361 McAuley Drive), on the campus of St. Joseph's Hospital. The featured presenter is Mary Ellen Geist, a renowned speaker who took care of her father with Alzheimer's disease.
To listen to this 13-minute talk, click the audio link:
To get in touch with Chris or the GAP program, please call 734-712-3774 or visit the website csswashtenaw.org.
Alan Caldwell and Sheila Doeden co-host Everything Elderly every Saturday morning at 8:30 on 1290 WLBY. In their day jobs, Alan and Sheila co-own and co-manage Senior Helpers, providing in-home care services, primarily to the elderly. Both can be contacted at homecareexcellence@seniorhelpers.com, or at 734-927-3111.