Posted on
Mon, Sep 17, 2012 : 5:57 a.m.
Evangelical Homes to open new rehabilitation center next month
By Alan Caldwell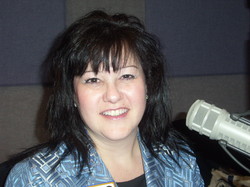 It was our anniversary show this past weekend — three years of the Everything Elderly radio program! For this special show we had two wonderful guests, with Dianna Huckestein joining us first. Dianna is the vice president of marketing and communications for Evangelical Homes of Michigan.
The Evangelical organization has been around 133 years and continues to redefine the meaning of full continuum of care, providing pretty much every care service a senior may need or want.
Dianna talked about their new Redies Center for Rehabilitation and Healthy Living. This facility will open next month on the campus of Evangelical Homes in Saline, attached to the St. Joseph Mercy hospital in Saline.
The Redies Center will significantly expand their rehab services. The center is just under 26,000 square feet and will provide physical, occupational and speech therapies. A salt water therapy pool allows for additional healing opportunities. The facility has rehab areas with many different floor surfaces. The concept is to get you ready for what you encounter in real life in the real world.
The center is focused on making the rehabilitation process as comfortable as possible with many private rooms, an internet cafe and plenty of relaxing spaces.
Evangelical offers a wide variety of home-based programs as well. Their staff has taken a hard look at what elderly folks need and want to help them stay in their homes and have based their service offerings on that research.
The organization is also hosting flu shot clinics for those in the local community. The flu shot events are scheduled through the fall at area churches. Additionally, Evangelical has partnered with Arbor Hospice to sponsor seminars with Teepa Snow, an amazing master trainer for caregivers of those with dementia. These sessions are this Wednesday, Sept. 19, at the Kensington Court Hotel.
To hear our 13-minute conversation, click the audio link:
To get in touch with Evangelical Homes of Michigan, to learn about the flu shot program or the Teepa Snow seminars, call 734-295-9959 or visit the website ehmchoices.org.
Photos by Sheila Doeden
Our next guest on our anniversary show was Penny Corbett. Penny is the owner of Jorn Court Associates providing personal bookkeeping services. Penny has an abundance of relevant personal and professional experience managing finances. She started her business at the urging of Kathryn Greiner at the University of Michigan Credit Union.
Penny has many wonderful clients, more than she anticipated. While she originally thought she would provide service exclusively to the elderly and their families, she has also found that many professional women are just too busy to keep track of their financial lives and have benefited greatly from her assistance. We enjoyed hearing how one client calls Penny her "bookkeeping angel."
She offers an extensive array of services including paperwork organization, monthly budgets, bank account reconciliation, help with setting up trusts and wills, tax returns, online bill paying, notary services and much more.
Before she beings working with a client, Penny meets with them to really understand their situation and their needs. Then a simple agreement is signed to document the services to be provided and the payment schedule. Penny's fees are less than a CPA or financial planner. She is insured and bonded, with plenty of references available.
Penny also has a website, jorncourt.com, with lots of useful information and an entertaining blog that includes some pretty good jokes.
Penny advises people to not be afraid of their finances. Many people are a bit scared to really look at their situation and continually put it off. Penny has found that these folks feel more empowered after getting some help and getting organized.
To listen to this 13-minute talk, click the audio link:
To get in touch with Penny or Jorn Court Associates, call 734-355-1221 or visit the website jorncourt.com.
Alan Caldwell and Sheila Doeden co-host Everything Elderly every Saturday morning at 8:30 on 1290 WLBY. In their day jobs, Alan and Sheila co-own and co-manage Senior Helpers, providing in-home care services, primarily to the elderly. Both can be contacted at homecareexcellence@seniorhelpers.com, or at 734-927-3111.