Posted on
Mon, Mar 28, 2011 : 5:55 a.m.
Who knew a talk on dentistry could be entertaining? Meet Dr. Jacobson
By Alan Caldwell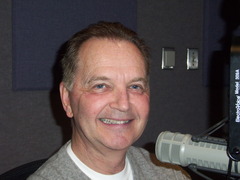 Before we first had Dr. Jed Jacobson, the chief of science officer and senior vice president of professional pervices at Delta Dental, on our radio show last August, my co-host Sheila and I were more than a bit skeptical it would make for 'good radio'. Afterward, we both remembered thinking, "We have to have this guy back on again!" And we did this weekend. Dr. Jacobson is engaging and entertaining as he discusses dental disease.
We focused on periodontal disease, as the risk of this problem increases dramatically as you age. Nearly 50 percent of people over 75 have periodontal disease.
It's a bacterial infection that's particularly pesky because it forms a bio-film that protects the bacteria. Left unchecked, the bacteria establishes a community, creates an infection, becomes inflamed and destroys the gum tissue and bone. Eventually, the tooth is lost.
The best way to reduce risk of periodontal disease is "the big three" — brushing, flossing and gargling with an anti-microbial rinse.
Interestingly, a new genetic test can predict who is most at risk for periodontal disease. Your dentist can perform the periodontal screening test with a simple cheek swab, and you get results a week later. If you are at high risk, you need to take extra special care of your teeth and should have frequent check-ups.
To listen to the 12-minute discussion click the audio link below:
If you would like to contact Dr. Jacobson or Delta Dental, call 517-347-5208 or go to the website deltadental.org.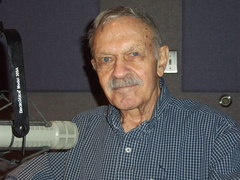 Photos by Sheila Doeden
We were pleased to welcome Bob Faber as our next guest on the program. Bob is himself a frequent contributor to AnnArbor.com, the writer of the Senior View column. One of our show producers, Paul Gordon, provided the perfect summary of this guest segment, "great perspective and excellent historical insight from Bob, spun with the yarn of wit."
Bob has been an Ann Arborite since 1954. He's owned a fabric store, owned a travel agency, and served on the City Council. He clearly loves our city and all it has to offer.
Being 85 years old now, Bob is developing expertise on being old. He worries about retired folks that get up, watch television all day, and then go to sleep. As he states, "that's not a life, that's suicide".
Bob is a big believer in staying interested and engaged in life. He advocates finding something that interests you, maybe something totally new. Bob talked about a woman in Ann Arbor who always wanted to learn a play woodwind instrument, and now in her later years, started taking lessons and is loving it. That old cliché is correct: You are only as old as you feel.
To listen to the 12-minute talk click the audio link below:
To get in touch with Bob Faber, send email to rgfaber@comcast.net.
Alan Caldwell and Sheila Doeden co-host Everything Elderly every Saturday morning at 8:30 on 1290 WLBY. In their day jobs, Alan and Sheila co-own and co-manage Senior Helpers, providing in-home care services, primarily to the elderly. Both can be contacted at homecareexcellence@seniorhelpers.com, or at 734-927-3111.