Posted on
Sun, Feb 28, 2010 : 12:06 a.m.
Everything Elderly - AnnArbor.com, O'Connor Hearing Center
By Alan Caldwell
Senior Helpers hosts a half-hour radio program every week, called Everything Elderly. We cover all sorts of topics related to seniors. The show is on 1290 am WLBY every Saturday at 8:30 a.m. On today's program, we were very fortunate to have Stefanie Murray from AnnArbor.com, and Tom O'Connor from the O'Connor Hearing Center.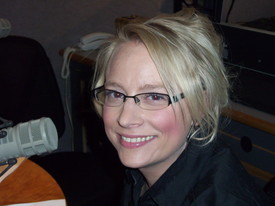 Photo by Sheila Doeden
Stefanie Murray is the Community Director at AnnArbor.com. She is responsible for all community-related content, including the blogging contributors. Stefanie talked about the new neighborhood focus to increase "hyper-local" content on the AnnArbor.com Web pages. She would like folks to post about their neighborhood - pancake breakfasts, fund raisers, garage sales, any local concern, any local event.
Murray got into journalism at a very young age. We enjoyed hearing about her news articles covering what her family was having for dinner that night. She explored broadcasting for a brief period, but became disillusioned with the emphasis on personal appearance. She considers her current position to be her dream job. She really loves building a continually improving product and developing a sustainable business model for news.
The elimination of the daily Ann Arbor News paper has been a huge change for the local population. People still miss their daily paper. Murray misses it too, but she explained how it simply wasn't sustainable economically. The readership of the new online product is already very impressive, with about 40,000 to 50,000 unique readers each day. The most popular pages are the news, crimes and sports - although plenty of people also connect with the obituaries and comics every day.
Specific to seniors, Murray is working hard on a current initiative to get elderly folks in the Ann Arbor area more comfortable with AnnArbor.com. She is holding meetings at different senior venues on how to use AnnArbor.com and how to find what interests you. Importantly, AnnArbor.com is providing free PCs to locations that have a specific need. This initiative is picking up momentum as Murray is finding more organizations willing to donate PCs, machines that AnnArbor.com will place with senior associations and with individuals that could really use a PC.
If you would like to contact Stefanie Murray or AnnArbor.com, you may call the Community Desk at 734-623-2570 or e-mail community@AnnArbor.com. To listen to the full 13-minute discussion, click on this link to the audio file Everything Elderly 0227 Stefanie Murray.mp3.

It was very educational and quite interesting to have Tom O'Connor on the program. O'Connor and Claudia B. Williams (his business partner) co-own the O'Connor Hearing Center. O'Connor has been an audiologist for 30 years. He was initially educated in the discipline at Michigan State University. He spent 12 years with the University of Michigan as their primary adult hearing aid manager.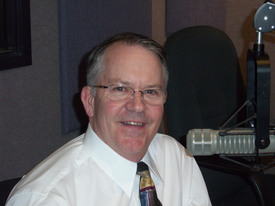 Photo by Sheila Doeden
The O'Connor Hearing Center works to diagnose hearing difficulties, and has a large selection of advanced hearing aids. I liked O'Connor's description of their objective as "improving lives through communication." The center completes a thorough diagnosis for their new clients, and then, if appropriate, they can recommend and fit the optimal hearing aids.
O'Connor's advice for seniors really comes down to this: If you think you may have a hearing deficiency, get checked. Very frequently hearing aids could help. O'Connor really wants to help seniors maintain their communication ability. The goal isn't hearing perfection - it's more about hearing at a good functional level. There are 34 million people in the U.S. with measurable hearing loss. Only 25 percent of those have hearing aids.
Today they are many choices with hearing aids. The cost ranges from around $700 to several thousand dollars, but even the entry-level aids are quite good. Most insurances will probably not cover hearing aids, but the center always checks on any potential to use the patient's insurance.
O'Connor also shared useful information on tinnitus (ringing in the ears). In this country, about 30 million people have tinnitus, and it's a significant issue for about one million residents. There is plenty that can be done to reduce the impact of tinnitus and improve quality of life.
To get in touch with Tom O'Connor or the O'Connor Hearing Center, please call 734-994-8300, or go to the Web site oconnorhearing.com. If you'd like to listen to the full 12-minute discussion, click on this link to the audio file Everything Elderly 0227 Tom O'Connor.mp3.
Alan Caldwell is the owner of Senior Helpers, providing in-home care services, primarily to the elderly. He can be contacted at acaldwell@seniorhelpers.com, or at 734-927-3111.