Everything Elderly: Family Home Health Services, and the art of visiting with Glacier Hills
Posted on Mon, Oct 25, 2010 : 6 a.m.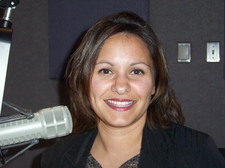 Everything Elderly is on Saturday mornings at 8:30, on 1290 am WLBY, sponsored by Senior Helpers. This past weekend, our guests were from Family Home Health Services and the Glacier Hills Care and Rehab Center.
Our first guest was Lisa Alarcon, the Director of Rehabilitation at Family Home Health Services. Family Home Health is a growing home health care company with offices across the Midwest and in Texas and Florida, with five offices in Michigan. They provide in-home skilled medical services including registered nurses, physical therapists and occupational therapists. The staff works hard to provide great service, trying to "go above and beyond doing lots of extra things."
Lisa is presently working on further enhancing the company's therapy program, to include more specialty initiatives tailored to specific conditions such as joint replacement. She is consistently looking for improvements in treatment techniques, talking with doctors and searching on the Internet.
Family Home Health sees primarily seniors in their own homes, with services paid for 100 percent by Medicare. Most of the patients are referred to the company by physicians, and some patients find them on the Internet or through presentations in the community.
Lisa shared a wonderful story about a male patient who had been diagnosed as quadriplegic. The diagnosis proved premature, as Family Home Health's team was able to get him to stand up and to do some walking. His quality of life improved very quickly, and he was much more able to assist with his own care.
To contact Lisa or Family Home Health Services, please call 800-901-3447, or you can visit the company's website at fhhs.us. To listen to my full 12-minute conversation with Lisa, click below: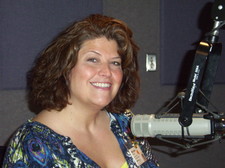 Photos by Sheila Doeden
Michelle Mitchell joined us next. Michelle is the Memory Care Program Manager at the Glacier Hills Care and Rehabilitation Center. Glacier Hills offers a full continuum of care and is a non-profit organization. Michelle works primarily with the residents that have dementia or some cognitive loss.
Eva's House is the memory care unit on the third floor of the Glacier Hills Care and Rehab Center. Michelle's objective is to create an atmosphere that is home-like. She fully appreciates that most people would prefer to be home. As she put it, "ending up in a nursing home is not everyone's life-long dream."

We talked about how to have a good visit with a loved one in a facility (the 'art of visiting'). Families can be hesitant to visit, as there may be some guilt for having your parent in a facility. Many elderly people need to be in a facility — they are just not safe alone at home. Isolation at home is also often a problem, and many people flourish in the new environment, especially with new social opportunities.
Visitors need go in with an open mind and an open heart. At the start, give your loved one a big hug and remind them who you are. Visits don't need to be big, grand events. Sometimes the best visits are simply sitting and holding hands. Your loved one may not remember that you specifically were there, but they will remember the joy and the love they felt while you were there.
To contact Michelle or the Glacier Hills Care and Rehab Center, please call 734-769-0177, or you can visit the website glacierhills.org. To listen to my full 12-minute discussion with Michelle, click below: