Posted on
Sun, Apr 25, 2010 : 7:10 a.m.
Everything Elderly - Homewatch CareGivers, and Physical Therapy at St. Joseph Mercy Health System
By Alan Caldwell
Senior Helpers hosts a weekly half-hour radio program, Everything Elderly. It's informative entertainment focused on seniors. The show is on 1290 am WLBY, each Saturday morning at 8:30. On this weekend's program, we featured home care services, and physical therapy.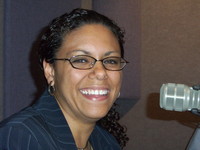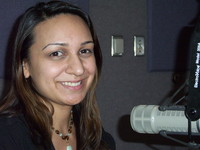 Our first guests were Breanne Stuart and Farzana Surati, the co-owners of Homewatch CareGivers. They provided very good advice for families needing assistance with the care of a loved one.
Highlights of the discussion included:
Farzana and Breanne opened their business two years ago, and have both cared themselves for their own parents.
Their agency provides clients with help with activities of daily living like bathing, and laundry/housekeeping, and very importantly providing companionship.
Both Breanne and Farzana are clearly passionate about helping families -- it's obvious they really love providing families with their services.
When choosing a home care company, get to know the management, they are hiring the caregivers and directing the business.
Farzana and Breanne both shared wonderful stories where their services made real positive differences.
Pathway to Memories is a special Homewatch program to help Alzheimer's clients improve their quality of life. If you would like to contact Farzana or Breanne, or Homewatch CareGivers, please call 734-622-8190. You may also visit their website at homewatchcaregivers.com/annarbor. To listen to the full 12-minute discussion, simply click on this audio file Everything Elderly Homewatch CareGivers 0424.mp3.

Our next guest was Kelly Tomaszewski, a physical therapist with St. Joseph Mercy Health System in outpatient rehabilitation services.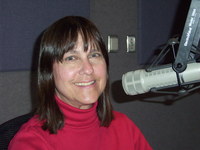 Photos by Sheila Doeden

.

Highlights included:
From an early age, Kelly wanted to do be a physical therapist. She really enjoys teaching people to do something they've previously been unable to manage.
Kelly's work frequently addresses issues with functional mobility and balance.
Removing hazards (like throw rugs) and have proper lighting (including night lights) can make homes much safer.
Kelly deals with patient proprioception problems. This is your awareness of where you are in space (are you upright? are you tilted?).
Walking in one direction and looking in another direction is a "high level activity", one that challenges your balancing abilities.
Kelly often encounters people that resist using walkers and cane. She coaches her patients to understand these are "tools" to help them get better, to get their independence back. To contact Kelly, or the St. Joseph Mercy Outpatient Rehabilitation Services, please call 734-712-3565. You can also visit the St. Joseph website at sjmercyhealth.org. To listen to the full 12-minute talk, please click on this audio file Everything Elderly Kelly Tomaszewski 0424.mp3

Alan Caldwell is the owner of Senior Helpers, providing in-home care services, primarily to the elderly. He can be contacted at acaldwell@seniorhelpers.com, or at 734-927-3111.