Everything Elderly: Packard Health discusses osteoporosis, community service at Kiwanis Club
Posted on Mon, Oct 11, 2010 : 6 a.m.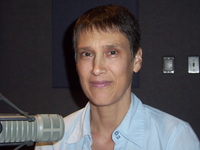 Everything Elderly is on the radio Saturday mornings at 8:30 on 1290 am WLBY and is sponsored by Senior Helpers. This past weekend, we talked with Packard Health and the Kiwanis Club.

We were most pleased to have Dr. Alice Penrose from Packard Health with us. Packard Health is a thriving non-profit clinic, with two locations in Ann Arbor (on Packard Road and on Maple Road). The practice treats all kinds of patients, including those with insurance and those without insurance. They are accepting new patients of any age.
Our discussion with Dr. Penrose focused on osteoporosis, which is weakness of the bone. It's very common—an estimated 10 million people have the disease. Age is a factor as well as gender. We all lose some bone as we age. Women have osteoporosis more often due to the significant decline in their hormone levels with menopause.
Fortunately osteoporosis is very preventable. Weight-bearing exercise (including just walking) definitely helps, especially starting young and continuing to exercise. Diet also plays a role; getting enough calcium and vitamin D is important. Most people would benefit from taking a vitamin D supplement (1000 units daily). Smoking and heavy drinking will also increase your risk.

The leading symptom of osteoporosis is incurring a bone fracture, usually involving the wrist, hip or spine. A bone density test will indicate if you have the disease. You can get a compression fracture in your spine just by opening a stuck window if you have osteoporosis. You may incur a hip fracture from just standing. With fractures, there is an increased rate of mortality.
To contact Dr. Penrose or Packard Health, please call 734-971-1073, or visit the organization's website at packardhealth.org.
To listen to the full 12-minute conversation, click below: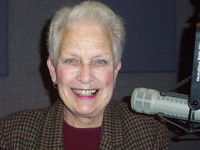 Sally Lamkin, with the Kiwanis Club of Ann Arbor, was our next guest. The Kiwanis Club is a service club that owns its own building in downtown Ann Arbor. The club has 165 members, and Sally and her husband Burt have been members for 12 years. The club raises money to benefit the community and focuses on helping children.
Sally is the chair of the Community Services Committee. This committee manages the club's voucher program. This program leverages the club's Thrift Sale. The building—located at Washington and South First streets—houses the Thrift Sale, a public sale held every Saturday morning from 9 a.m. to noon. The sales offers a huge inventory of household and personal goods. 
The voucher program provides help for families to be able to shop for what they need. Those qualifying come to the store on Thursday mornings with their social worker host. The club donates about $30,000 worth of goods annually. To support the sale, donations of used goods are accepted at the club on Mondays, Thursdays and Saturdays.
The Community Services Committee also supports the club's grants program. Through this program, last year the club awarded cash contributions to 67 agencies totaling $136,527. Those receiving donations included the American Red Cross, Vineyard Church, Leslie Science Center, Neighborhood Senior Services and Packard Health. The grant process for the upcoming year is underway. The club is now accepting grant applications.
Sally really enjoys seeing folks shopping at the sale on Saturday, and especially seeing people who were initially in the store with the voucher program return to the weekly sale.
To contact Sally Lamkin or the Kiwanis Club, please call 734-665-2211, or you can visit the club's website at aakiwanis.org.
To listen to the full 13-minute discussion, click below: