Everything Elderly - Packard Health, Heartland Home Health Care and Hospice
Posted on Sun, Feb 21, 2010 : 11:47 a.m.
Senior Helpers hosts a weekly radio program called Everything Elderly. We cover all sorts of topics related to seniors, with an emphasis on health. The program airs on 1290 AM WLBY, every Saturday morning at 8:30. On this weekend's program, we were privileged to have two wonderful guests; Dr. Raymond Rion from Packard Health, and Stephanie Gooden with Heartland Home Health Care and Hospice.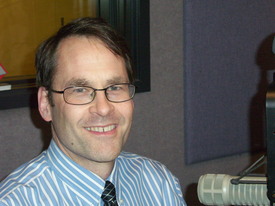 Photo by Sheila Doeden
Dr. Raymond Rion is the Medical Director at Packard Health. This is a clinic serving the full community, those with insurance and the uninsured as well. Packard Health was founded in the early 1970s by Dr. Jerry Walden (who retired just three years ago). The professional staff includes six physicians, a nurse practitioner, a chronic disease manager, and a master-degreed social worker. The clinic is located at 3174 Packard Rd. (next to Two Wheel Tango). With the help of St. Joseph's Health System, a second clinic opened last fall on the west side of Ann Arbor, at Maple and Dexter, next to St. Joe's Urgent Care.
Dr.Rion really enjoys taking care of the elderly. Seniors are more likely to have multiple medical problems, and while their care is more challenging, Dr. Rion finds it very rewarding. From his experience, he believes that lack of exercise is the biggest problem with his elderly patients. Also, interactions with medicines can cause serious issues. Dr. Rion stressed the importance of making sure your doctor knows everything you are taking, including any over-the-counter drugs.
The clinic is funded by insurance payments, patient fees, grants, and community donations. The patient fees for those without insurance are set on a sliding-scale based on income levels. All patients pay something. Dr. Rion stated, "It's important that all people contribute something to their care."
Packard Health also offers unique, special programs. The integrated health program combines care of the primary physician with care of a psychiatrist (from Washtenaw County Public Health), and the clinic's social worker. This allows the clinic to provide effective mental health services. Their chronic disease manager assists patients with conditions such as diabetes, helping instruct on self-management.
If you would like to contact Dr. Rion or Packard Health, you can call the clinic at 734-971-1073, or send an e-mail to info@packardhealth.org, or visit their website at packardhealth.org. To listen to the full 12-minute discussion, click on this audio file Everything Elderly Dr Rion 0220.
Stephanie Gooden is an account liaison with Heartland Home Health Care and Hospice here in Ann Arbor. This is Stephanie's third guest appearance on Everything Elderly. She always has interesting topics to discuss, and this week was no exception as she talked about Heartland's cardiac care program. This is personally important to Stephanie as she lost both her grandfathers and an uncle to heart disease, and all of them were only in their 40s and 50s. Also, her mother has successfully battled a heart condition for years.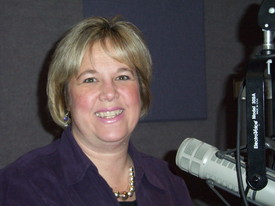 The cardiac program allows for people to manage their disease at home, with the objective of keeping patients out of the emergency room, and out of the hospital. Nurses visit the home or call on a very frequent basis. All of the program staff receives extensive training specifically on heart disease.
The program includes use of a meal log. Patients and their families are asked to keep a detailed account of the patient's complete diet, including sodium and fat content. It is very relevant to also record daily observations regarding health and fitness. This information is very useful to the medical team to really understand what's going on with the patient.
When looking at home health care companies, you can go the medicare.gov website to compare general outcomes (for example,re-hospitalization rates). Additionally, it's good to ask for the outcomes for specific conditions, such as heart disease. Also find out about the accreditations the company has in place.
If a family's loved one has a planned procedure that may result in home care, Stephanie strongly recommends setting up the home care plan in advance. This is much easier to do in advance, before your loved one is in the hospital. Than you're not scrambling around after the fact, and you'll have one less worry.
If you would like to get in touch with Stephanie Gooden or Heartland Home Health Care and Hospice, please call 734-677-8140, or visit their website at hcr-manorcare.com. To listen to the full 12-minute discussion, click on this audio file Everything Elderly Stephanie Gooden 0220.