Posted on
Sat, Feb 13, 2010 : 11:43 p.m.
Visiting loved ones in care facilities; assistance from Jewish Family Services
By Alan Caldwell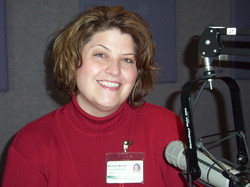 Photo by Sheila Doeden
Senior Helpers
presents a weekly radio program called
Everything Elderly
. We talk about all sorts of topics related to seniors, with a focus on health. The show airs on 1290 AM WLBY, every Saturday morning at 8:30. On today's program, we were most pleased to host
Michelle Mitchell
and
Dr. Abbie Lawrence-Jacobson.
These are two individuals who are clearly very passionate about what they do.
Michelle is with the Care and Rehabilitation Center at Glacier Hills, as the Clinical Marketing Liaison. She provides personal support, meeting patients in local hospitals, representing Glacier Hills. Michelle helps residents with "Life Enrichment" programming, identifying their specific likes and dislikes, to provide customized high-quality programs.
Michelle facilitates meaningful family visits for Glacier Hills residents. Families that regularly visit their elderly loved ones help them in many ways. Visits help residents stay connected with their community. Having regular visits helps ward off depression, and provides mental and physical stimulation. Even if the loved one does not remember exactly who the visitor is, he or she will likely recognize the person, and know it's someone they enjoy seeing.
Michelle provided some really helpful (really specific) advice for visits. If your loved one is sleeping when you arrive, you should gently wake her - she will want to see you! Family members should begin visits in a positive manner. Make eye contact, wear a big smile, and introduce yourself (do not assume your relative knows who you are). Looking through photo albums is a great activity, although you should describe the people in the photos. If you would like to contact Michelle Mitchell, you may call her office at Glacier Hills, 734-929-6779, or e-mail Michelle at micmit@glacierhills.org, or go the Glacier Hills website. To listen to the full 12-minute discussion, click on this audio file Everything Elderly Michelle Mitchell 0213.mp3.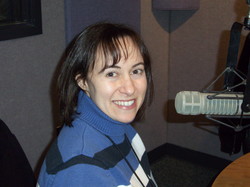 Photo by Sheila Doeden
Dr. Abbie Lawrence-Jacobson is the Director of Older Adult Services at Jewish Family Services of Washtenaw County. The first thing Abbie made clear is that Jewish Family Services is there for whoever needs help; you don't have to be Jewish. As Abbie explains in the conversation, one of the fundamentals of Judaism is to help repair the world, and it's important to help serve everyone.
Abbie's group works to help older adults live independently, preserving quality of life and personal dignity, and supporting family caregivers. The group provides a huge range of services, including short-term counseling, case management, friendly in-home visitors, caregiver consultations, and transportation services. There is a minimal charge for most services, although no one is ever turned away for lack of money.
One of the unique services is Patient Partners where volunteers go with patients to their doctor's appointments, as an advocate for the patient. The partner facilitates improved communications. They make sure all the appropriate questions get asked, and fully document the visit for the patient and their family. As Abbie pointed out, doctors do not mind having a partner involved, in fact doctors frequently recommend this service (because the doctors recognize that their patient care is enhanced through this program).
To get in touch with Dr. Lawrence-Jacobson or Jewish Family Services, please call 734-69-0209, or e-mail Abbie at abbie@jfsannarbor.org, or go to the website jfsannarbor.org. If you'd like to listen to the full 12-minute discussion, click on this audio file Everything Elderly Dr Lawrence-Jacobson 0213.mp3.
Alan Caldwell is the owner of Senior Helpers, providing in-home care services, primarily to the elderly. He can be contacted at acaldwell@seniorhelpers.com, or at 734-927-3111.