Posted on
Mon, Dec 19, 2011 : 5:57 a.m.
Balance test provides a useful fall risk assessment in just 30 seconds
By Alan Caldwell
On the show this past weekend, we spoke with our friend Lisa Alarcon from Family Home Health Services. Lisa is Family's director of rehabilitation services, and is in charge of making sure the therapists at Family have a complete and well-rounded toolbox to benefit their patients. Family provides a full range of in-home therapy and skilled nursing services.
We talked with Lisa about a new tool they are using, called Sports Cat. This is a machine they bring into senior communities, whether an apartment complex or assisted living facility. The residents each take a 30-second test, standing on the Sports Cat.
The machine provides an immediate assessment on "balance deficits". Balance is so critical to fall risk, and preventing falls is very important for all seniors.
Lisa provided a good explanation on the three key areas that affect balance. The vestibular system is your inner ear, and if the crystals become loose, that can cause vertigo. Vision plays a very key role. Your sensation is also important — if you can't feel where and what you are standing on, you're much more likely to fall.
Family's staff analyzes the results of the balance test, and asks lots of follow-up questions to better understand what is going on with each patient. Then, as appropriate, follow-up therapy and exercises are recommended.
The whole key is to work with the senior before they fall. Once an elderly person falls, they are frightened of more falls, and they may become very inactive.
To listen to our 13-minute discussion, click the audio linnk:
To get in touch with Lisa or Family Home Health Services, call 800-901-3447, or visit their website fhhs.us.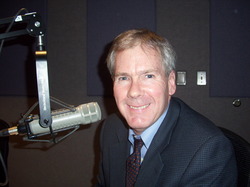 Photos by Sheila Doeden
We then had a lively, very informative discussion with John Freeman, the state director with Know Your Care Michigan. This organization is a nonprofit whose mission is to educate people about federal health care reform, passed in March 2010. As John said, the Affordable Care Act is very complex, and many people don't understand what it's about and how they can benefit from the new law.
John spends his time out in the community, reaching out to seniors, young adults, small businesses and people that don't have insurance. The elderly in particular need to know that this new law can really help them.
John spoke of the overall negative perception many people have about health care reform, but if you ask these same people about the specific components of the act, they are generally supportive of each part.
Specifically, John discussed four very beneficial parts of the Affordable Care Act. The law stops insurance companies from discriminating against those with a pre-existing condition. The prescription drug coverage "donut hole" will be eliminated. The law promotes preventive care, to better diagnose illnesses as soon as possible. And seniors will now be able to get an annual wellness visit with their physician to talk about lifestyle and how to make positive changes to stay well.
The Affordable Care Act is also a cost savings measure. With preventive care, the expectation is that people will be treated earlier before major health problems develop. Today, the 45 million people in this country that don't have insurance often end up in the hospital emergency room, the most expensive place to provide health care.
To listen to this 13-minute talk, click the audio link:
To contact John or Know Your Care, please call 313-655-7945, or you may visit their website knowyourcare.org (or healthcare.gov).
Alan Caldwell and Sheila Doeden co-host Everything Elderly every Saturday morning at 8:30 on 1290 WLBY. In their day jobs, Alan and Sheila co-own and co-manage Senior Helpers, providing in-home care services, primarily to the elderly. Both can be contacted at homecareexcellence@seniorhelpers.com, or at 734-927-3111.