Posted on
Tue, Jun 29, 2010 : 11:51 a.m.
FDA: Antibiotics in livestock bad for human health
By Tina Reed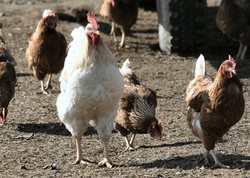 • Cattle, poultry and pig farmers should stop giving antibiotics to their livestock when it's not medically necessary, the U.S. Food and Drug Administration said Monday. Reported by USA Today, the government department said the overuse of antibiotics for increasing the size of animals or helping them digest their feed is threatening the effectiveness of antibiotics in humans.
• Ever complain about not getting a hot meal on airlines anymore? Might want to rethink that: Many of the catering companies that prepare the food for meals on major airlines have numerous health and sanitation violations this year and last year, USA Today reported.
• A new report found toddlers who received a combined vaccine for measles, mumps, rubella and chickenpox were at twice the risk for fevers which lead to seizures, the New York Times reported.
To get information about a local environment event or announcement mentioned in the Tuesday environment briefs, contact reporter Tina Reed at tinareed@annarbor.com, call her at 734-623-2535 or find her on Twitter @TreedinAA.