Posted on
Tue, Jul 9, 2013 : 5:46 a.m.
Fitness tips to make the most of your summer: Switch things up and challenge yourself
By Melissa Gerharter MS, RD
Now that we are full swing into summer, make sure you don't miss out on taking full fitness advantage of one of the best seasons! Check out these tips to make the most of your summer.
1) Switch up your workout by skipping the weight machines a couple of times a week to include push-ups, dips, and free-weight exercises.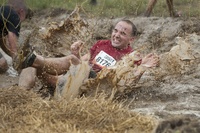 J. Scott Park | MLive.com file photo
2) Train for a challenging run or obstacle course! Runs such as Tough Mudder or Warrior Dash are challenging fitness events that take place in the warmer months!
3) Use outdoor park equipment to increase the intensity of your workout. Use benches in your daily workout for dips, lunges and push-ups!
4) Take a trip to the lake for a kayak trip or to the mountains for a hike! Also try out the beach for a swim, a volleyball match or Frisbee game.
5) Lastly, make sure to hydrate and apply ample sunscreen!
Add these tips to your summer workouts and enjoy the warm weather!
Melissa Gerharter MS, RD, CSSD is co-owner of Joust Strength and Fitness of Ann Arbor. She is also a part time lecturer at Eastern Michigan University. She can be reached at melissa@joustfitness.com