Posted on
Sun, Jan 10, 2010 : 3 a.m.
Three fundamentals of a meditation practice
By Susan Scott Morales, MSW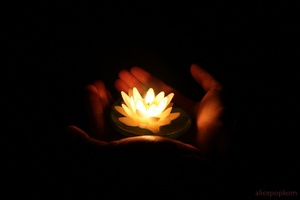 Photo by Flickr user alicepopkorn
You've read you can increase your brainpower or you want to enhance your sports performance. Perhaps your doctor told you it's time to learn stress reduction. In yoga class you've become aware of the possibility of enlightenment, understanding your true nature or your purpose in life. Whatever your motivation, bravo! Meditation is an extremely effective change agent because you are looking within yourself.
There are three simple steps to set up a practice: create the appropriate environment, maintain a relaxed and alert posture and have an intention.
Create the environment
We don't make our minds meditate any more than we can make ourselves sleep. But to achieve the latter usually all it takes is lying down on a comfortable surface and closing our eyes. Sleep happens. Similarly we can condition our minds to slip into meditation by creating a soothing environment with few distractions. For example, you might choose an easy chair in the living room or a large pillow on the floor of the den or bedroom. Low lights, a lighted candle can also enhance the ambiance. Wearing the same clothes, sitting at the same time of the day can help you enter into meditation more easily.
Sit in a Comfortable Posture
You can throw away the picture in your mind of the yogi sitting crossed-legged in a full lotus asana (posture) with hands in shin mudra (thumbs and index fingers touching). Although there are advantages to those positions for meditation, they are not necessary. The two main essentials are being seated upright and being relaxed. Upright so you stay alert and relaxed so that your breath is moving easily. It's hard to stay relaxed if you're uncomfortable so use props like pillows and blankets. You can shift your posture during meditation as long as you stay relaxed and upright. Rest your hands on your thighs or fold them in your lap. Again, whatever feels good to you.
Set an Intention
Why are you meditating? You may have an overall intention like stress reduction, but it helps to get specific. For example, to stop worrying about an exam, to relax your shoulders, to focus on the tightness in your chest to discover what's bugging you. These are not expectations. Instead you are programming your mind to guide you where you want to go. It's a set up for disappointment if you approach meditation thinking you want to see a full lotus blooming in your head like your friend experienced. Meditation, like dreaming, is highly individual.
With all of these points, be flexible. Make them work for you. If the pillow in the den is too soft, try sitting in a chair. If your legs fall asleep, move or stretch. If you worry that your meditation isn't "working," change your intention to: "I will accept whatever happens." There are no mistakes with meditation. It is you being with yourself.
Please contact me with any questions, experiences, comments about meditation. How has it served you? What are your challenges? As a mental health professional, an owner of a fitness studio, a writer and a wife, mother and grandmother, I have found meditation to be helpful in every aspect of my life. Let's talk...You can reach me at susanmmorales@yahoo.com or check out my websites: susanscottmorales.com and bodiesinbalancefitness.com