H1N1 vaccine available to Washtenaw County general public Friday
Posted on Tue, Dec 8, 2009 : 3:34 p.m.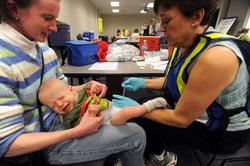 Lon Horwedel | AnnArbor.com

Swine flu vaccine will be available to the general public for the first time this week in Washtenaw County, health officials announced today.

The vaccine clinic will be held at Eastern Michigan University's Convocation Center, 799 N. Hewitt Road in Ypsilanti, on Friday starting at 1 p.m. Wristbands for the clinic will be distributed Thursday at the EMU Convocation Center and at the Washtenaw County Western Service Center, 705 N. Zeeb Road, from 10 a.m. to noon and from 5 p.m. to 7 p.m.

Everyone who gets a wristband will get a dose of the vaccine. The clinic Friday will only be open to those with wristbands.

Officials said they have determined those in the highest priority groups have had sufficient opportunity to get the H1N1 vaccine. Previously, the county has only distributed the vaccine to people determined by the Centers for Disease Control and Prevention to be at high risk.

Earlier in the day, the state announced that the H1N1 flu vaccine would be available to all Michigan residents by next Monday since demand had dropped among those in the priority groups.

Those in the high-risk groups are still strongly encouraged to get the vaccine. Those groups include:

• Pregnant women

• Health workers

• People 6 months to 24 years old

• Contacts and caregivers for children under 6 months old

• People 25-64 who have higher risks of complications because of other health problems.

On Tuesday, the state reported another seven influenza-related deaths in Michigan. H1n1 flu is blamed in the deaths of 66 people in the state since April 1 and 56 since Sept. 1, when swine flu began gaining steam.

Since Sept. 1, officials said at least 1,830 people have been hospitalized in Michigan for the flu. The department said 10,059 flu cases were reported in the state the week of Nov. 22-28, less than in previous weeks.

"It looks like this wave has peaked," Greg Holzman, chief medical executive for the Department of Community Health, said during a conference call with reporters.

Michigan now has regional influenza activity instead of widespread activity, the department said. But health officials cautioned there may be additional waves of swine flu in addition to an increase in seasonal flu.

The H1N1 vaccine is available at no cost at public clinics. Private providers may charge for giving the vaccine, but that cost is limited by the federal government to $22.04 in Detroit and $19.84 elsewhere in Michigan. State officials didn't know the reason for the different costs.

The Associated Press contributed to this report.