Posted on
Thu, May 19, 2011 : 9:35 a.m.
What bugs you and why? Learn what science has to say about annoyances
By Chris Wucherer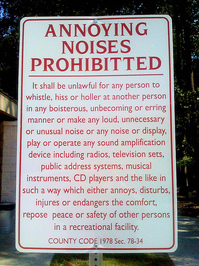 Have you ever felt cranky or annoyed for seemingly no reason? I know I have, as a matter of fact, I woke up cranky this morning.
Was it because we were out of coffee and I regretted not going to the store last night? Was it because I have a lot to do today or because it's been raining and cloudy so long that I need to start building an ark? Or was it just because?
I vote for the latter. I think there is no rhyme or reason to today's crankiness and that it will dissipate with time and exercise. The truth is I am very much looking forward to my day and resent the crankiness.
My job this morning was to not let my crankiness spill over to my husband and thus become an annoyance to him. No sense raining on his parade, excuse the pun.
NPR recently aired a piece on Annoying: The Science of What Bugs Us by Joe Palca and Flora Lichtman.
They say, "Everyone is annoyed by something. Many of us are annoyed by lots of things. Most of these annoyances have more to do with our personal sensitivities — our neuroses, our upbringing, our points of view — than any objective "annoying" quality. Other annoyances are so powerful, however, that they transcend race, gender, age, and culture."
Palca and Lichtman say the three ingredients to finding something annoying are unpredictability, unpleasantness and uncertainty of when it will end.
I think that it's not the fact that we feel annoyed or cranky, it's what we do with the feelings that matter.
What annoys you? What do you do to deal with your annoyances in a sane way?
As for me? Today I will practice mindfulness, exercise, eat healthy and look forward to the expansive day ahead of me, which is waiting for me to paint as I like. What a gift!
I was listening to Pandora radio while writing this post and the song 'Accentuate the Positive' by Ella Fitzgerald came up. Talk about the universe serving up what we need when we need it! Another gift!
Click here to listen to the NPR story and here to read the story and take the a quiz to find out how annoying you are.
Saner Living Tips for handling annoyance:
Think three positive thoughts to every negative thought
Exercise
Eat healthy
Journal
Talk about it with a trusted person
Chris Wucherer is a life coach, business coach and psychotherapist with 28 years of experience helping people create saner lives. She writes a blog and has a website. You can reach her at 734-669-7202 or by email.