Posted on
Fri, Apr 16, 2010 : 11:45 a.m.
Health and life insurance placing their bets on fast food companies?
By Tina Reed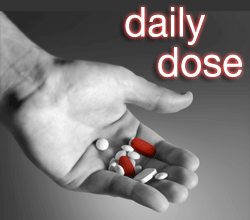 Here's a look at some of the top health news being talked about around the U.S. and the world today:
• Life and health insurance companies owned $1.9 billion in stock in fast-food companies about mid-way thought 2009, according to a study published in the American Journal of Public Health.
Wesley Boyd of Harvard Medical School and Cambridge Health Alliance in Massachusetts said while fast food isn't necessarily always detrimental to health, "aggregate evidence points toward a negative effect on public health." Body told ABC News: "If the insurance industry is willing to invest in products known to be harmful and/or kill people then, prima facie, this is not an industry that actually cares about health and well-being."
• President Barack Obama ordered hospitals around U.S. to give gay and lesbian partners the same visitation rights that they would give married heterosexual couples. His directive, through the U.S. Department of Health and Human Service agency, also requires hospitals getting Medicare or Medicaid money to honor patients' advance directives.
• Doctors are warning that therapeutic swings often used to help calm children with autism can also create a hazard for the children because small metal fragments can peel from the suspension apparatus and end up in their eyes, the New York Times reported.
• E. coli 0157 cases decreased markedly in 2009 while the rates of other bacterial illness, such as vibrio, are on the rise, according to the data from the Centers for Disease Control and Prevention.
Tina Reed covers health and the environment for AnnArbor.com. You can reach her at tinareed@annarbor.com, call her at 734-623-2535 or find her on Twitter @TreedinAA.