Monday health briefs:

University of Michigan event to feature safety and transportation issues

Posted on Mon, Apr 5, 2010 : 3:30 p.m.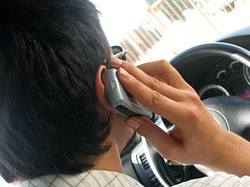 The University of Michigan will hold its annual Transportation Research and Education Conference on young driver and older adult safety and mobility issues April 7 from 8 a.m. to 4 p.m.
Topics will include technology and transportation, emergency medicine, trauma and transportation and making the transition from driving to not driving.
It will be hosted in U-M's Michigan League Ballroom, 911 N. University Ave., Ann Arbor. For more information, visit http://m-castl.org/node/70.
A chance to learn about HPV U-M physicians will offer information and research about human papillomavirus and cervical cancer at the downtown Ann Arbor library on April 13. To be held from 7 p.m. to 8:30 p.m., the event will include information about prevention, about infection with the virus and about vaccine changes, including availability for males. The downtown library is located at 343 S. Fifth Ave. in Ann Arbor. For more information on this event, call the Library at 734-327-4555.
Businesses can become emergency medication dispensing site
Washtenaw County public health is hosting an orientation luncheon to address emergency medications in large-scale disasters.
Organizations such as businesses and non-profit organizations can learn about becoming a dispensing site for emergency medicines. The event is scheduled for April 28 and May 13 from 9:30 a.m. to 1:30 p.m. Lunch will be provided, but space is limited.
For more information and to reserve a spot in either session, call the county at 734-544-6759, or by mail ringlers@ewashtenaw.org or calling 734-544-2986 or boxwalaf@ewashtenaw.org.
Learn healthy cooking, eating
The MSU Extension Food, Nutrition and Health program is offering a "Healthy Eating for Le$$ Project" to help area residents earn how to make healthy food on a budget. The project is a four-session series on Monday evenings starting May 3. It will be held in the MSU Extention classroom at 705 N. Zeeb Road from 5:30 - 7:30 p.m.
The project will also include information on preserving food, food safety and making restaurant meals at home. Participants will also see healthy cooking demonstrations and food samples. To enroll, call MSU Extension at 734-997-1678.
The Extension also plans to offer a Food Preservation 101 class on April 26 from 5:30 p.m. to 7:30 p.m. in it's classroom. The class will help participants learn about methods of food preservation, including freezing and water-bath and pressure canning.
To learn more about these programs and to enroll, contact the extension office at 734-997-1678.
To get information about a local health event or announcement mentioned in the Monday health briefs, contact reporter Tina Reed at tinareed@annarbor.com, call her at 734-623-2535 or find her on Twitter @TreedinAA.