health:

Healthy adjustments to the fall season: Prioritize healthy meals and fitting in workouts

Posted on Sat, Oct 13, 2012 : 8:51 p.m.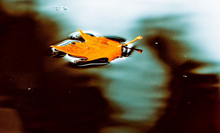 Photo by Flickr user Ryan S B

Fall has officially begun. As a new season begins, we are all given a chance to assess our health habits and fitness routines. The transition from summer into fall represents moving from an active season to a passive one. here are a few simple changes we can do to adjust to the weather in the healthiest way possible.

One way is to make a list of priorities. Most likely the fall is a much busier time for our lives than was the summer. Prioritize cooking healthy meals, fitting in workouts and enjoying the fall weather with family and friends. Also with the fall change in hours of light, prioritizing spending time outside during the day will prevent seasonal depression symptoms avoiding the many dark hours. By making tasks a priority, they are more top of mind and as a result more likely to be completed!

The fall brings a dry, crisp feeling in the air, which is why it is most important to stay hydrated. Stay hydrated by drinking lots of water throughout the day, and use non-alcoholic moisturizers.

The fall is also the best time to enjoy the fresh root vegetables of the season. Such season root vegetables include beets, turnips, carrots, parsnips, sweet potatoes, pumpkins and squash. Seasonal fruits include apples, pears, grapes, figs and persimmons.

.