Posted on
Mon, Nov 14, 2011 : 5:57 a.m.
GPS tool helps patients visualize their rehab progress at Heartland
By Alan Caldwell
Anita Stamatopoulos, with Heartland Health Care Ann Arbor, joined us on the radio show this past weekend. Anita is the director of nursing at the Heartland Health Care Center on Huron River Drive, near St. Joseph Mercy Hospital.
Heartland takes care of patients transitioning from a hospital back to their home. The center is that in-between community where the patient receives the required therapy to improve and return home safely. The facility specializes in acute care, with the ability to provide care of those that need special skilled treatment (for example, tracheostomy).
A typical day at Heartland includes a total of two and a half hours of physical and occupational therapy. A typical rehab stay is 21 days.
Anita talked about this neat, innovative "GPS" tool Heartland is now using. It's the Goal Plan for Success, and it allows patients to visualize and manage their rehabilitation progress. The tool maps out their goals and tracks their improvement, so patients and their families can see how they are doing.
The GPS has been very well received. It provides a straight-forward and simple way to see progress toward the goal (which for most patients is to get back to the level of functionality they previously had, before they went to the hospital).
Heartland also has beneficial educational programs, such as their congestive heart failure group. Patients and their families increase their knowledge on relevant topics such as nutrition.
To listen to our 12-minute discussion, click the audio link:
To get in touch with Anita or Heartland Health Care Ann Arbor, call 734-975-2600, or visit their website hcrmanor-care.com.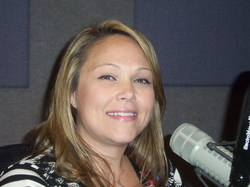 Photos by Sheila Doeden
Lisa Senawi joined us next. Lisa is the executive director of Chelsea Care at the Chelsea Community Hospital. Chelsea Care provides in-home health care, both certified skilled and private duty non-medical care. The certified home health services are paid for by Medicare or other major medical coverage. The patient needs to be considered home-bound, meaning "it's a taxing effort to leave the home." The physician writes the required prescription, and Chelsea Care can then provide in-home nurse visits, and well as in-home therapy.
Lisa is also the co-chair for the Healthy Communities initiatives. This is an inventive program, the result of studying the health data of residents in Western Washtenaw County. That data showed a decrease in physical activity and an increase in obesity.
The objective of Healthy Communities is to get people more physically active, and specifically to get them walking. The program starts with an initial assessment, including determining the participant's Body Mass Index (BMI). There are re-assessments at six months and 12 months.
One of the popular programs is to "walk up the state of Michigan." There are specific destination goals along the way, walking the equivalent of up and down the state, a total of 450 miles. This approach makes the exercise more interactive and interesting, and participants receive small incentives along the way to provide additional motivation.
There is also a nutritional aspect to Healthy Communities, with recipes to make better eating choices. The program has been very successful, with participants achieving an average 13 percent BMI improvement. To listen to this 13-minute talk, click the audio link:
To contact Lisa Senawi or Chelsea Care, please call 734-475-4190 , or visit the website cch.org.
Alan Caldwell and Sheila Doeden co-host Everything Elderly every Saturday morning at 8:30 on 1290 WLBY. In their day jobs, Alan and Sheila co-own and co-manage Senior Helpers, providing in-home care services, primarily to the elderly. Both can be contacted at homecareexcellence@seniorhelpers.com, or at 734-927-3111.