Posted on
Mon, May 7, 2012 : 5:57 a.m.
Home health care can greatly assist with recovery in your own home
By Alan Caldwell
There are wonderful health services available to seniors right in their own homes. Bryan Kulcsar, account liaison with Heartland Home Health Care and Hospice, shared this message on the radio program this past weekend.
For those recovering from a surgery or an illness, home health care provides skilled medical assistance from visiting registered nurses, physical therapists, occupational therapists and speech therapists. The care is generally covered by Medicare or medical insurance. To qualify, you need to be considered home-bound, meaning it's a taxing effort to get out of the house.
Hospice services are for those with a terminal condition with a prognosis of six months or less. Hospice care can also include massage therapy, music therapy and pet therapy. These services can provide a better quality of living to the end of life.
To take advantage of these programs, families should talk with their loved one's doctor. With the physician's written order, in-home care can usually start right away. The goals of Heartland's home care include making sure the patient understands his or her disease or condition, effective in-home treatment and reduced re-hospitalization.
Bryan spoke about how families can best evaluate different home care choices. One terrific resource is Medicare.gov. At this website, under the Resource Locator, click on Home Health Compare. From there, input your ZIP code and select the various agencies you would like to evaluate.
To hear our 13-minute conversation, click the audio link:
To get in touch with Bryan or Heartland Home Health Care and Hospice, call 877-329-1001 or visit the website hcr-manorcare.com.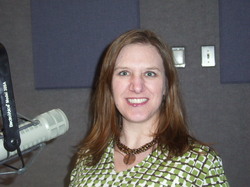 Photos by Sheila Doeden
The local senior community is getting revved up for the big annual event, Senior Living Week. Beth Adams joined the program to share all the details. Beth is the director of the Housing Bureau for Seniors and Ann Arbor Meals on Wheels.
This major event kicks off with the expo this Friday, May 11, from 8:30 a.m. to 3:15 p.m., at the Morris Lawrence Building at Washtenaw Community College. The expo is open to the public and is totally free. There will be almost 90 exhibitors, from senior residences to all sorts of local service providers that help the elderly.
Beth talked about the tremendous amount of information that can be quickly gained at the expo. It's a great opportunity to talk with professionals face to face and to get to know those that might be able to assist you or your family.
Besides the vendor exhibitors, the expo also includes four useful workshops. The workshops continue through the following week at various locations and include sessions on wellness, avoiding fraud, living with low vision, living safely at home, understanding care options, finances and many others. These workshops are presented by local industry experts who are there to help you get informed.
The other major part of Senior Living Week are the open houses of local senior facilities. There are 13 open houses scheduled from Saturday, May 12 through Sunday, May 20, representing a variety of independent and assisted living options. These are your chance to tour facilities and really get a feel for each community.
To listen to this 13-minute discussion, click the audio link:
To get in touch with Beth, the Housing Bureau for Seniors, or to learn more about Senior Living Week, please call 734-998-9339 or visit the website med.umich.edu/seniors/.
Alan Caldwell and Sheila Doeden co-host Everything Elderly every Saturday morning at 8:30 on 1290 WLBY. In their day jobs, Alan and Sheila co-own and co-manage Senior Helpers, providing in-home care services, primarily to the elderly. Both can be contacted at homecareexcellence@seniorhelpers.com, or at 734-927-3111.