Posted on
Mon, Jul 18, 2011 : 5:57 a.m.
A strong sense of community at this family-run senior residence in Ann Arbor
By Alan Caldwell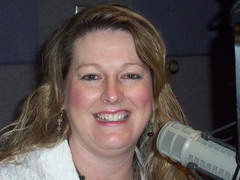 We had the great pleasure of welcoming Nanya and Vic Litz as our guests on the show this past weekend. Nanya and Vic are the owners and operators of Hillside Terrace, a senior residence on Jackson Avenue in Ann Arbor. These two wear a lot of hats: you name it, they do it.
Hillside Terrace is all about family, and the Litz family is very involved. Besides, Vic and Nanya, their son Trey and daughter Amanda work there. Amanda is also studying to be a registered nurse, following closely in her mother's footsteps. It's very much a family atmosphere, where even their dogs come to work.
I've gotten to know Nanya through the Alzheimer's Association board of directors, and her compassion and dedication to taking care of seniors is so apparent. At Hillside Terrace, for Nanya and Vic it's really about sharing lives. The Litz family, the staff, and the residents are all together as a family community.
The facility provides a continuum of care — from independent living, to increasing levels of assisted living, to dementia care. A senior can move in and stay and stay, even up to and including hospice care.
Their residents range from 70 to 102 years old, and the 102-year-old still plays euchre. The Hillside Terrace community allows each to remain socially active and build new long-term friendships.
To listen to the 13-minute discussion with Nanya and Vic, click:
To get in touch with Nanya, Vic, or Hillside Terrace , please call 734-761-4451, or visit the website hillsideterrace.net.
Photos by Sheila Doeden
We were most fortunate to have Jennifer Howard join our discussion. Jennifer is the executive director of the Alzheimer's Association, the Michigan Great Lakes chapter. Jennifer reminded us of the basics of the organization. The association is a nonprofit, working for those with dementia, primarily with Alzheimer's disease. As the mission is "A world without Alzheimer's", the group funds a significant amount of research toward prevention and treatment.
The organization offers a wealth of local services including education programs and support groups. There is also a useful hotline staffed 24/7 with knowledgeable resources (1-800-272-3900). While based nearby in Chelsea, Jennifer's chapter services 23 counties in Michigan.
Jennifer took some time to explain Alzheimer's. It's a disease of the brain — the neurons are dying, the brain is actually shrinking. The most obvious symptom is the loss of memory.
With Alzheimer's, the memories are literally dying away. Some family members may continue to tell their grandma, "you must remember so and so". But those memories might have physically died, and you can't argue your grandma into remembering.
Alzheimer's is a fatal disease; in fact, it's the 6th leading cause of death. Today, in this country, 5.4 million people struggle with the disease. Early diagnosis is possible as brain imaging continues to get better and better. An early diagnosis helps families better deal with the disease, allowing for financial planning, and important discussions about care priorities.
Jennifer also reminded us about the Walk to End Alzheimer's on Oct. 2. The Ann Arbor walk is at Gallup Park, with registration at 11 a.m., and the walk at 1 p.m.
To listen to the 13-minute talk with Jennifer, please click:
To contact Jennifer, the Alzheimer's Association, or learn more about the walk, you may call 1-800-272-3900, or go to the website alz.org/mglc.
Alan Caldwell and Sheila Doeden co-host Everything Elderly every Saturday morning at 8:30 on 1290 WLBY. In their day jobs, Alan and Sheila co-own and co-manage Senior Helpers, providing in-home care services, primarily to the elderly. Both can be contacted at homecareexcellence@seniorhelpers.com, or at 734-927-3111.