Posted on
Mon, May 16, 2011 : 5:57 a.m.
Humane Society of Huron Valley offers senior pets for senior citizens
By Alan Caldwell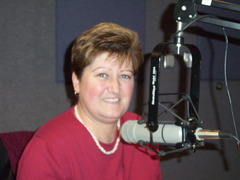 On our 'encore' radio show this weekend, we revisited our talk with Deb Kern, the marketing director of the Humane Society of Huron Valley. Deb is a pet lover herself who adopted three animals from the society even before she assumed her current position five years ago.
The Humane Society opened its new shelter last October, and it's now "a fantastic community resource" located at 3100 Cherry Hill Road, near the Dixboro General Store.
There is always a big need for their service, and the current economy has only added to the need. They have a newer program, Bountiful Bowls, that helps provide food for those needing help feeding their pets.
The Humane Society has many senior initiatives. The Senior-to-Senior pet adoption program offers seniors the chance to adopt a senior pet, a pet that's 8 years or older, at no charge. They match the pet to the person, with adoption counselors helping people through the simple adoption process.
People remain happier and healthier when they have a pet. The documented benefits include lower hypertension, less depression, and getting more exercise.
Interestingly, Deb shared that all humane societies are independent. Their organization services all of Washtenaw County, as well as Plymouth and Canton. If you are interested in donating to the organization, please ensure you note it's for the Huron Valley chapter of the Humane Society.
To listen to the 12-minute discussion with Deb, click the audio link:
To get in touch with Deb or the Humane Society, please call 734-662-5585, and you can visit their website hshv.org.
Photos by Sheila Doeden
Our next encore guest was Fran Savickis, a public affairs specialist with the Social Security Administration of Southeast Michigan. Fran's role is to reach out to the public and help educate people about social security.
Fran loves talking about the agency, does occasional television and radio interviews, and connects with local newspapers like AnnArbor.com and the Ann Arbor Journal. She also conducts informational seminars for many groups including seniors, companies, unions, and faith-based organizations.
We talked about socialsecurity.gov, the terrific social security website. It has been updated with easy links to the most popular features. You can apply for social security online, as well as file for Medicare. Those already receiving benefits can change their address, change their direct deposit, or get a replacement Medicare card online.
The website even has a cool Patty Duke video (she's one of their spokespeople). The website is getting good traffic, and Fran frequently hears very positive feedback about the website's convenience and ease of use.
The Extra Help program assists with prescription drug coverage. If you have Medicare coverage and limited income, once you've signed up for a prescription plan, the Extra Help program can help pay those insurance premiums. People can learn more and apply for this benefit online.
To listen to the 12-minute talk with Fran, click the audio link:
To get in touch with the Social Security administration, please call 800-772-1213, or go to the website socialsecurity.gov.
Alan Caldwell and Sheila Doeden co-host Everything Elderly every Saturday morning at 8:30 on 1290 WLBY. In their day jobs, Alan and Sheila co-own and co-manage Senior Helpers, providing in-home care services, primarily to the elderly. Both can be contacted at homecareexcellence@seniorhelpers.com or at 734-927-3111.