Posted on
Sat, Jul 3, 2010 : 5:53 a.m.
University of Michigan professor addresses controversy with cholesterol-lowering statins
By Tina Reed
If you've ever been diagnosed with cardiovascular disease, chances are your doctor also discussed statin drugs with you.
But chances are, you might have been prescribed statins if you were at increased risk for but did not yet have cardiovascular disease.
According to a new analysis of data from previously published studies, there is little evidence that the wide use of statins primarily for prevention reduces risk of death. The analysis was published Monday in the Archives of Internal Medicine.
Statins are a class of drugs used to help lower a person's cholesterol levels to reduce a person's chance of heart attack or stroke. The drug Lipitor, which was developed by Pfizer Inc. when it was still located in Ann Arbor, is a statin.
Statins have become one of the most widely prescribed medications for the prevention of cardiovascular disease, but have become greatly controversial in their use, says Lee Green, a University of Michigan professor in the Department of Family Medicine.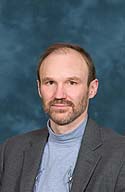 "For secondary prevention patients, or people who have coronary heart disease, there is no controversy. Statins have been shown to be an effective treatment," Green said. "The question raised is about the use of statins in someone who has not been diagnosed and whether they're worth it.
Green teaches a course for new physicians with the intent to teach them how to evaluate the constant stream of new published studies, and other sources of information, they will use to inform their practice of medicine in the future.
In an editorial also appearing in the Archives of Internal Medicine, Green questioned the value of previously published studies touting the value of statins, pointing to conflicts of interest in the funding of the research.
He answered some questions this week about his thoughts on the statin controversy.
Q: You mention in your editorial there is a lot at stake for both payers (insurance companies) and industry (drug companies). What about patients?

A: "There's a lot at stake for patients. For example, there are a lot of people who have no symptoms and don't have identified disease who might be taking a medication for many years. Not to mention that could mean a lot of money for the patient … This is asking a lot of people to take a lot of pills with an unknown benefit to only certain people while exposing every patient to potential side effects."
Q: What is the most effective primary prevention behavior in coronary disease if it's not taking statins? Do we know?
A: "We absolutely know. It's movement. Exercise. Get off that sofa and put down those pork rinds. If you really look at data among folks who are overweight, it's among those who are sedentary overweight who are most at risk for coronary heart disease."
Q: You teach future doctors in medical decision making and practice guidelines. What do you think of current prescribing practices?

A: "It's all over the map now. Some physicians are conservative, some are aggressive … Right now, statins are both over and underprescribed. Frankly a lot of the overprescribing can be related back to marketing by the pharmaceutical industry."
Q: Your editorial really raises questions about the nature of studies conducted with funding from industry. Why is that important?
A: "It's publication bias," Green said pointing to studies which show links between funding sources and the outcomes of drug studies. In the editorial, he wrote, "Doubtless both sponsor and investigative team believe that they made their design decisions for the right reasons, but social psychology research provides abundant evidence that we human beings both respond strongly to self-interest incentives and firmly believe we do not."
Q: The University of Michigan medical school recently became the first to say it will no longer accept funding from drug or device makers for its continuing education classes for physicians, it was reported in the New York Times. What do you think about this decision? (Green is serving on the conflict of interest review committee at the medical school.)
A: "I'm proud to say U-M has been a real leader in removing conflicts of interest in education … Continuing medical education (for physicians) has been a major target of the pharmaceutical industry. If we really want to do the best for our patients, we need to get that thumb off the scales. We have to stop pretending money doesn't buy our judgment."
Tina Reed covers health and the environment for AnnArbor.com. You can reach her at tinareed@annarbor.com, call her at 734-623-2535 or find her on Twitter @TreedinAA.