Posted on
Wed, May 18, 2011 : 9:15 a.m.
How do you keep your cool when the weather is hot?
By Washtenaw County Public Health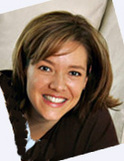 Susan Cerniglia
Although spring seemingly arrived and left last week, the heat of summer could be upon us any day now. Washtenaw County Public Health would love to hear how ready you feel to take on very hot summer days or other potential health emergencies.
We are launching a Hot Weather and Health Survey. Hot weather can cause serious illness or death. Input from area residents helps us understand how prepared we are to deal with extreme heat — and what community services would be most beneficial. The survey is anonymous and only takes about eight minutes.
Take our Hot Weather and Health Survey!
In the warmer months, local emergency rooms in Washtenaw County may see as many as five to seven patients per day with possible heat-related illnesses, such as sunburn, heat exhaustion or heat stroke and dehydration.
Additionally, there is growing evidence that climate change is affecting Michigan and the U.S. as a whole. Heat waves in the U.S. are already more deadly than hurricanes, tornados, floods and lightening combined, and the number of hot and very hot days (over 90 and 100 degrees Fahrenheit) in Michigan is expected to increase dramatically in the coming years.
The health effects of climate change are expected to be both direct (heat-related illness and death) as well as indirect (reduced air quality and increased insect- and water-borne illnesses).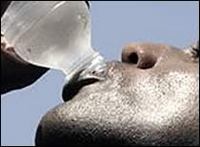 The good news is that staying safe in hot weather isn't complicated. Drinking extra water or cooling off in water or air conditioning — even briefly — may prevent serious illness.
It's also important to understand if you are at any greater risk of heat-related illness. Older adults, infants, children and people with chronic medical conditions are most at risk of heat-related illness or death. Outdoor work or activity, certain medications or pregnancy may also increase your risk.
Additionally, actions that protect and improve our individual health can also protect and improve the health of our community and our environment. Driving less and exercising more, eating fewer processed foods and more local fruits and vegetables or making energy efficiency improvements at home will result in healthier individuals with fewer chronic health conditions. These will also result in cleaner air, fewer vehicles on area roads and safer walking- and biking-friendly communities.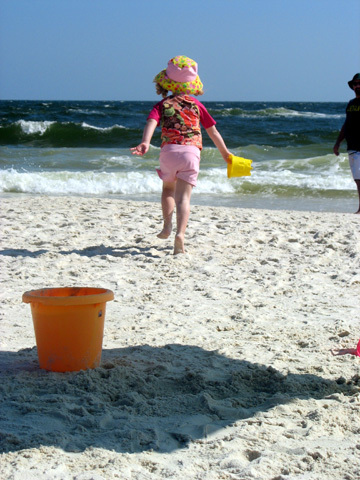 Cooling off at the beach. (Photo by Susan Cerniglia)
As a public health professional, I am conscious that making healthy, safe choices for ourselves or our loved ones is not easy. As a wife and working mother, I know there are never enough hours in the day or dollars in the daycare account.
The world we live in also seems increasingly fast-paced, difficult to figure out and overwhelming. I've gone to work with two different shoes on. I've passed my exit driving to work. I've started the morning trek to our various destinations before realizing one of the kids or I wasn't yet fully dressed.
While moments like these challenge my sanity, they also remind me that the more chaotic daily life feels — the more ready we need to be to handle crisis. Knowing and practicing how to react can help you stay calm during an emergency. It also helps me keep the crisis of day or moment in perspective, or at least most of the time.
I look forward to using the information we gather to provide useful, appropriate emergency preparedness information and services in our community. So, let us know.
And, if you're ready to update your emergency plans or supplies, take it one step at a time. Think about preventing heat-related illness or sunburn and preparing for any potential health emergency now. Get familiar with our local Emergency Alert System.
Most of all, we hope you will appreciate the risks of hot weather, take precautions and access public cooling centers or other resources if you need them. For more information about staying safe in hot weather, please visit www.ewashtenaw.org/heat.
Susan is a Health Educator and Public Information Officer at Washtenaw County Public Health. Whenever the hot, summer days arrive in Washtenaw County, she'll enjoy keeping cool as often as possible at area pools and lakes with her two kids and hubby. She can be reached at 734-544-6759.