Posted on
Fri, Jun 3, 2011 : 10:03 a.m.
Is self-compassion the most important life skill?
By Chris Wucherer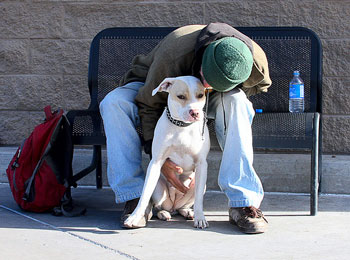 One of the more frequent themes for my clients is the ability to be harsh on themselves. I have got a touch of it myself, in certain areas, as do all human beings.
The feeling of not being good enough, smart enough, thin enough, rich enough etc., is as common as ants at a picnic, ready to devour the feast you've set out.
Not holding oneself in high esteem is like a virus spreading its tendrils throughout one's spirit and soul.
Sometimes you may be cruising through life, feeling good, when the yucky low self-esteem virus knocks on the door of your good feelings.
For some people, low self-esteem is like an unwanted relative who has decided to make camp in their home, uninvited and unwanted for an unspecified period of time. It covers them like an old worn overcoat laying thick and heavy on their spirits.
Recently, I came across this article on self-compassion in LiveScience.com, which notes that, "psychologists are finding that self-compassion may be the most important life skill, imparting resilience, courage, energy and creativity."
Decades of research, particularly in the 1970s and '80s, suggested having high self-esteem is the cornerstone of happy, successful lives. This spurred an emphasis on self-esteem-building in parenting books, schools and even prisons.

But now scientists are realizing they may have been measuring the wrong thing; all the benefits of having high self-esteem are equally found among the self-compassionate, said psychologist Mark Leary, a researcher at Duke University. And when statistically looking at self-compassion alone, the negative aspects of high self-esteem, such as narcissism, disappear.

Where self-compassion is a way of relating to your self — especially when times are tough — self-esteem is a measure of yourself against others. In order to keep self-esteem high, you have to convince yourself you are better (or, preferably, the best), either by denying your faults and pains or by putting others down, and usually both.
They go on to say that self-compassion has three aspects: mindfulness, common humanity and kindness.
That's a cocktail I want at my picnic of a life!
So the good news is that we have the power within us to improve how we feel about ourselves by being just a little more gentle in how we think about ourselves and by practicing mindfulness, remembering our common humanity and being kind to ourselves and others.
Do you practice self-compassion? What do you think of these ideas? Click the comment button below —I would love to hear your thoughts on self-compassion.
Chris Wucherer is a life coach, business coach and psychotherapist with 28 years of experience helping people create saner lives. She writes a blog and has a website. You can reach her at 734-669-7202 or by email.