Posted on
Tue, Oct 25, 2011 : 9:36 a.m.
It is 'trick and freak' time for this mom!
By Eva Johnson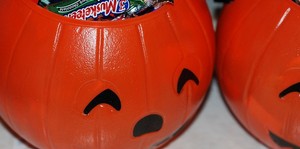 photo by flickr user aus_chick
Around Halloween, I start to seriously freak out about my kids' health.
Most parents seem to be perfectly comfortable with giving their kids sugar, fat and other related junk foods during the holidays. I get stressed. In fact, I go to houses where there are bowls of candy just sitting there, uneaten. I think they have kids that are not hardwired for junk.
My kids don't work this way. In fact, they ask for dessert with their breakfast. They ask for ice cream everytime we pass the Dairy Queen. They wait until they get to a friend's home and then start begging for food, even though I just fed them. I can't even pull through the McDonald's drivethrough without a major fight (even if I just want a coffee). If my oldest can smell fried food, he will visibly sniff the air and declare "I smell chicken nuggets, mom!"
So, I freak out around Halloween, worrying that they will end up with eight cavities and extra pounds around the waist. I freak out because I have very little control as they get older what they consume. I freak out because I feel like I am the only one who will be there to freak out for them.
I freak. I bite my nails. I snap at people like a dragon when they shower my kids with candy. I avoid extra opportunities for early trick or treating.
Am I the only 'freak out mom' out there? I hope I am not alone!
Eva Johnson is an ACE (American Council on Exercise) certified personal trainer, who is going to try to stay healthy despite an unhealthy chocolate addiction. She lives in chaos with her husband and two boys. To see her complete blog about how to stay sane and in shape in the real world, visit www.fitnessbyeva.com.