Posted on
Fri, May 27, 2011 : 6 a.m.
Using an I Do List can make you a thoughtful caretaker for yourself
By Chris Wucherer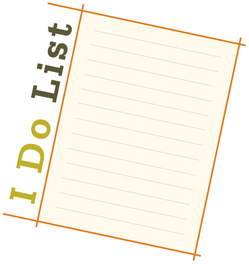 What is an
I Do List
? How do I use one? Isn't it selfish?
"I was taught to put others first." "I want others to like me and they won't if I am selfish." "I don't have time to focus on myself."
These are common questions and statements my clients and talk attendees frequently express as they exude exhaustion, depression, anxiety, overwhelmed feelings and unhappiness.
Lately, I have been talking to a lot of groups about saner living. The nugget that runs through out my talks is that the core need to living a saner life is to know who you are and want you want. Most people think of this as a tall order and feel daunted by the task.
It's not as hard as it looks at first glance. The trick is to:
Make a commitment to the process of understanding who you are and what you want.
Break your journey into small daily doable steps.
Put your self-care first before all else.
Have a support team.
I know, at first this seems selfish. It's not selfish,
it's self-full
. The truth is we need to be full of self in order to have a saner life and to be kind, caring and helpful to others and to community.
Being self-full means:
We know who we are.
We know what we need.
We know what we want.
We know our passions.
We take very good care of ourselves.
We are kind to others from a generous heart.
We help others from a place of compassion and good energy.
We assume nothing.
We listen well and openly.
We understand that everything changes, including ourselves.
If we don't have ourselves then what do we have?
So, along with the never-ending to do list create an I Do List. An I Do List is your self-care list, the things you do for yourself on a daily basis to increase self-awareness, increase health and increase connectivity.
I tell my clients to think of their I Do List as their medicine, which they take as prescribed and as an unequivocal necessity to saner living.
Change happens best when we write down what we want to change as well as our change steps.
What do you think of using an I Do List? Do you have one? What's on your I Do List? .
Click on the comment link below and share your I Do List.
There is no need to delay; start today.
Chris Wucherer is a life coach, business coach and psychotherapist with 28 years of experience helping people create saner lives. She writes a blog and has a website. You can reach her at 734-669-7202 or by email.