Posted on
Sun, Apr 3, 2011 : 5:50 a.m.
Meditation is active listening to the layers of your inner life
By Susan Scott Morales, MSW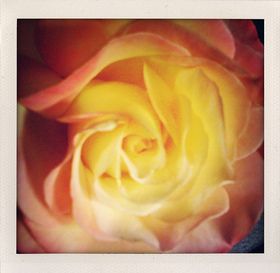 Photo by Flickr user ByJane
The question, "And how does that make you feel?" is often used to parody therapists. As trite as it might seem, I believe our feelings — physical and emotional — are the major guideposts of our choices.
Under each behavior, lies a thought, beneath each thought a belief, under each belief a feeling. One we want to pursue or avoid.
Take this simple example. You've received a poor evaluation (or report card, or critique.) You were expecting a positive one and feel punched in the stomach.
Immediately you analyze what might have gone wrong. You're in your head. This strategy can play out to absurd levels: "I'll never get ahead." What if instead of thinking about it, you focus on the feeling in your gut? Sit down, or close your eyes and simply be with the feeling?
It might play out like this: "It hurts badly." Then, "Like when I was cut from the team." (Or something similar; we've all had disappointments.) Again, notice, "It hurts."
Now this is the important twist: Allow the part of you who has been observing your thoughts and your feelings to extend compassion to the pain. Relax into the feeling of compassion. With this simple exercise, you'll notice the feeling subside and, in some cases, dissolve.
With the edge off the feeling, we're more able to make clear choices in how we react to a situation. Whenever you feel a pang of discomfort, an icky feeling, it's a clue to finding more freedom within yourself. The key is to practice this as often as possible.
I've always found some relief. Sometimes I get an insight, and come to understand the "why" behind the feeling. Other times I don't get any illumination but am left with a deep sense of peace and contentment.
Don't be surprised if the process has many layers. And you may want to seek professional help for feelings that seem overwhelming. I encourage you to have patience, be gentle with yourself and let me know if you have any questions.
Please note: In order to devote more time to writing my next book, I'll be posting here on a biweekly basis. In the interim, my index has many entries to support your meditation practice.
Susan Scott Morales is a meditation teacher, psychotherapist, published poet, novelist, and community contributor to AnnArbor.com. Tweet her @susanscottmoral, reach her at susanmmorales@yahoo.com or visit her website: susanscottmorales.com.