Posted on
Sun, Mar 27, 2011 : 5:55 a.m.
Meditation self-help 101: 'Can meditation make me feel worse?'
By Susan Scott Morales, MSW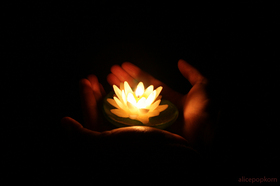 Photo by Flickr user alicepopkorn
This past weekend, I presented at a retreat for women in recovery from substance abuse organized by the Ann Arbor Women's Group.
I was so pleased when one of the participants had the courage to ask, "Can meditation make me feel worse?" It reminded me of a client who said he didn't meditate because he always felt angry as soon as he sat down and got quiet.
What we feel when is meditate isn't caused by meditation. It's been there, but perhaps unnoticed, because we distract ourselves with our thoughts, activities and, for some, through addictions.
If you've made the commitment to meditate, how can you keep negative feelings from discouraging you? The same way we handle disturbing thoughts (see lessons 1 and 2): Observe them. Remember you are not your thoughts. You are also not your feelings. Whatever the feeling is, don't identify with it — no matter how strong it is.
You might want to label the feeling you notice: This is anger! Or this is sadness, disappointment, humiliation, shame.
Build your vocabulary of feeling words. It helps to get specific.
Once you've labeled it, notice how your body feels. Did you ever make the connection between the words "emotions" and "feelings"? Our emotions are called feelings because we sense them in our bodies; that's where we feel.
The next time a difficult feeling arises in meditation, notice it, get curious, and go back to focusing on your intention for meditation. Alternatively, you can focus on your breathing. Next Sunday, I'll go into more detail on how to work with feelings that come up in meditation. Be well!
Susan Scott Morales is a meditation teacher, psychotherapist, published poet, novelist and community contributor to AnnArbor.com. Tweet her @susanscottmoral, reach her at susanmmorales@yahoo.com or visit her website: susanscottmorales.com.