Posted on
Sun, Mar 20, 2011 : 5:50 a.m.
Meditation self-help 101: Notice how your thoughts make you feel
By Susan Scott Morales, MSW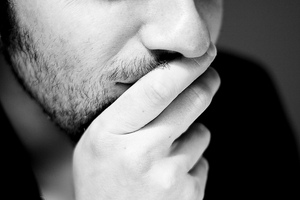 Photo by Flickr user @boetter
In this second lesson (see "Get curious about your thoughts" for lesson one), we're going to explore more closely the thoughts you observed last week. Did you notice a pattern?
One of my favorite psychotherapy resources is Dr. David Burns' book, "Feeling Good: The New Mood Therapy." In it, he discusses the cognitive patterns we use to avoid our feelings. They range from minimization to overgeneralization to personalization. We all have certain tendencies, and I recommend you check out his categories to help you identify yours.
Whatever they are, I've found that these defenses tend to create tension in the body. Try this: Think negatively about a situation you're concerned about. For example, "I never get anything right!"
Now check into your body — especially your neck, forehead, and shoulders. You may also sense how your stomach and chest feel. Did you notice more tightness?
Now do the opposite: Think of something pleasant. Again check into your body, the same areas. What do you notice? The differences may be very subtle, so repeat the exercise a few times to get the feel for it.
The next time you meditate, become aware of your thoughts without judgment and notice their impact on your physical and emotional state. Are they making you feel more uptight or is your body relaxing? Are the thoughts keeping you going in a circle or motivating you to move forward?
If you're becoming more tense, you can simply say to yourself, "Thinking." Or you may identify one of the cognitive defense patterns and state, "Oh, that's just overgeneralization, I must be avoiding an unpleasant feeling." Again, no judgment.
Next Sunday, we'll discuss how to work with your feelings in meditation.
If you need help with your meditation practice, check out my index for techniques and guided meditations.
Susan Scott Morales is a meditation teacher, psychotherapist, published poet, novelist, and community contributor to AnnArbor.com. Tweet her @susanscottmoral, reach her at susanmmorales@yahoo.com or visit her website: susanscottmorales.com.