Posted on
Tue, May 18, 2010 : 10:43 a.m.
Meet Fitness Contributor Jes Reynolds
By Jes Reynolds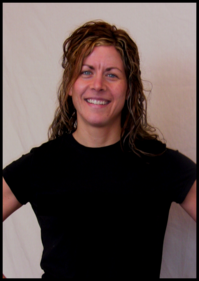 Hi, my name is Jes Reynolds. I'm a personal trainer in the Ann Arbor area, and I'll be blogging each week about fitness and nutrition topics.
My mother once told me personal training was the perfect job for me because I get to boss people around all day. Well, she was right. In the following few paragraphs I'll try to give you a brief overview of how I decided that fitness, instead of running for president, was the perfect outlet for my intense bossiness.
I started my love affair with sports and fitness at the age of 8, when mom dragged me kicking and screaming to the Pinckney Community Pool to be a part of the swim team. Suspicions that arose during practice were confirmed after the first meet, I was officially the worst swimmer on the team. But for some reason (most likely the cute boys) that didn't stop me and I kept at it all the way through high school.
I picked up volleyball in middle school and my career riding the pine (bench warmer) continued. As high school volleyball tryouts approached I was sure I would never make it, but thankfully, there was room for me on the bench in high school too. Around that second year of high school volleyball something started to change. I'm not sure if someone put a spell on me or what, but I finally came into my own as an athlete that year. I never looked back.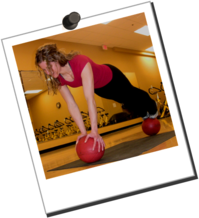 Thanks to my high school weights teacher Mrs. Mate, I started learning about nutrition and fitness as lifestyle apart from athletics (yes still stuck in high school time warp) and it was the combination of the two that planted the seed for my life-long passion for health, fitness, and nutrition. I went on to earn a B.S. in Kinesiology from my beloved Michigan State University (GO GREEN!).
Living and teaching the fitness lifestyle is a passion and joy for me. Because of my education and training as a trainer I've been fortunate enough to develop a unique perspective on fit living and a distinctive personal training style. This combined with my bossy nature and intense personality allows me to channel what some may consider my negative qualities into a positive outlet. I work with individuals of all levels and I love it!
Over time I found that even though I love the one-on-one setting of personal training, it simply didn't allow me to boss enough people around. In hopes of reaching more people with my bossy yet well-informed message, I started a blog: http://JesReynolds.com that includes lots of educational fitness tips and information. As an official Ann Arbor resident, it is my hope to use my training, my blog, and my voice as a community contributor to be a voice in creating a healthier, more fit community.