Monday health briefs:

Doctors with financial stake in surgery center more likely to recommend operations

Posted on Mon, Apr 19, 2010 : noon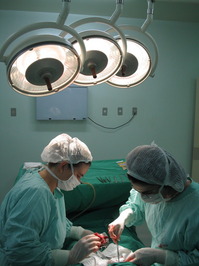 Doctors who have financial investments in surgery centers are more likely to perform surgeries than those who don't, according to a University of Michigan medical school study.

According to the study, which looked at patients in Florida who had one of the top five outpatient surgeries, those doctors who had ownership in a surgery center performed nearly twice as many procedures as those with no financial stake in the center.

One potential explanation, according to a release about the study, is that doctors may be lowering thresholds for treating patients with common outpatient procedures, said study author John Hollingsworth, a Robert Wood Johnson Clinical Scholar at the U-M Medical School.

Results of the study appear in the April issue of Health Affairs.

Ride for the cure The first Michigan Ride for the Cure bicycling event will be held this summer on Aug 7 starting and ending in Ann Arbor.

The event will have routes that are 27 miles, 57 miles and 97 miles with food and beverage stations along the route. There will be a party for riders at the finish line.

Registered riders will commit to raise at least $500 to benefit the Mid-Michigan Affiliate of Susan G. Komen for the Cure. Those who sign up before May 1 receive a jersey before the ride.

To register for the event, visit the Ride for the Cure website. For more information or to volunteer, e-mail hapietsch@gmail.com.

Latest technology, services for visually impaired

Those who are visually impaired or blind can learn about the latest technology and services available at an upcoming event at Washtenaw Community College. The Ann Arbor District Library will present the event VISIONS 2010 Vendor Fair on May 12 from 10 a.m. to 4 p.m. at the Morris Lawrence Building, 4800 E. Huron River Drive.

The event will feature hands-on demonstrations with vendors of products like magnifiers, support services, electronic readers, Braille devices, leader dogs and transportation services. Special demonstrations will be available throughout the day, including a presentation about the latest in vision research from the University of Michigan's Kellogg Eye Center at 11 a.m.

There is no admission charge and ample free parking is available. Sighted volunteers will be available to assist throughout the day. For more information about the event, call the Ann Arbor District Library at 734-327-4555 or visit aadl.org.

Get trained for emergencies

The county is looking for interested volunteers to be part of the Washtenaw County Medical Reserve Corps and get training in psychological first aid, the Washtenaw County All-Hazard Plan and the Strategic National Stockpile Plan.

The program aims to organize citizens with a variety of skills to assist local community emergency response initiatives.

Orientations this month will offer introductions to the corps.

Those 18 and older can attend orientations at the Washtenaw County Learning Resource Center, 4135 Washtenaw Ave., in Ann Arbor on:

• Saturday April 24th at 10:00 a.m. • Thursday April 28th at 6:00 p.m.

To reserve refreshments and a seat, please RSVP to Leann at 734-544-2974 or fredal@ewashtenaw.org. Orientation attendance is required in order to become a Washtenaw County Medical Reserve Corps member and to attend future trainings.

To get information about a local health event or announcement mentioned in the Monday health briefs, contact reporter Tina Reed at tinareed@annarbor.com, call her at 734-623-2535 or find her on Twitter @TreedinAA.