Posted on
Thu, Jun 9, 2011 : 12:29 p.m.
Are you decidedly undecided? Learn nine tips for making decisions
By Chris Wucherer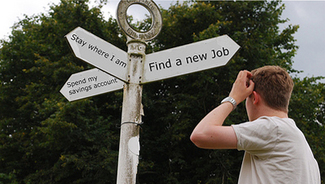 Have you ever tried to pick out a paint color and feel your eyes cross at the number of choices?
Do you ever feel overwhelmed by the all the great information available to you on the internet?
Have you ever felt paralyzed trying to decide the best possible direction in a situation?
In my business, clients are often stuck in the 'What should I do?' place.
Should I get a divorce? What's the best consequence for my teen's behavior? Should I start a new business? What is my passion? Should I change my career? How can I talk with a difficult employee? Should I get a second opinion?
In fact, most of us can get stuck making important decisions. We want to do the right thing. We want the best results.
One of my saner living tenets is to make the best possible choice given the information at hand.
The best we can do is to:


Gather all relevant information.


If you are emotionally flooded, calm down.


Make a 'pros and cons' or 'yes and no' list.


Give yourself time to sit with all options.


Talk with trusted people.


Make the best possible decision given the information at hand.


Don't second guess your decision.


Let yourself know that you made the best decision possible.


Remind yourself that most decisions can be changed.


Our primitive brain is hard-wired to look for danger. This can happen in decision-making, too. We can find ourselves creating what-if stories that can keep us running in place.
Take these tips out for a spin and see how well your decision making abilitly runs.
How quick do you make decisions? What gets in your way? How do you get unstuck?
Make the decision, right now, to click the comment button below and share your thoughts.
Chris Wucherer is a life coach, business coach and psychotherapist with 28 years of experience helping people create saner lives. She writes a blog and has a website. You can reach her at 734-669-7202 or by email.