EVERYTHING ELDERLY
HEALTH:

The governor and mayor proclaim Lifelong Learning Week

Posted on Tue, Sep 4, 2012 : 5:57 a.m.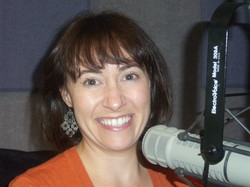 It is now officially Lifelong Learning Week, Sept. 2 through Sept. 8, as proclaimed by Mayor John Hieftje and Governor Rick Snyder. Abbie Lawrence-Jacobson shared this good news with us this week on the radio show. Abbie is the program coordinator at the Osher Lifelong Learning Institute. Lifelong Learning Week is a wonderful and very appropriate recognition of the 25th anniversary of the Osher organization and all that it contributes for older adults pursuing learning.
The Osher Lifelong Learning Institute is made up of 1,200 adults age 50 and older focused on continuing to learn through lectures and study groups sponsored by Osher. It's a diverse membership that includes retired professors and others without university degrees, from Ann Arbor and all the surrounding communities.
This Thursday, Sept. 6, at 10 a.m., Osher is holding a kick-off event for their latest program series and to celebrate Lifelong Learning Week and Osher's 25th anniversary. This will be at the Clarion Inn at 2900 Jackson Ave. The mayor will be on hand to present the city's proclamation.
The event will also honor 11 pioneers of the organization as well as presenting a complete overview of the fall programming. There will be opportunities to learn all about the various lectures and study groups offered. Area residents can register for the programs during the kick-off event.
Abbie impressed us with her description of the various topics covered this fall including lectures on the European Union and Supreme Court. Study group topics are amazingly diverse, including the presidential election, race and the constitution, book groups, Japanese calligraphy, evolution, the father/son relationship — it goes on and on.
To hear our 13-minute conversation, click the audio link:
To get in touch with Abbie or the Osher Institute, or to register for classes, call 734-998-9351 or visit the website olli-umich.org.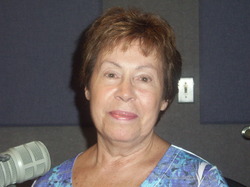 Photos by Sheila Doeden
We were so pleased to next welcome Anne Lawrence to the program. Anne is Abbie's mother and it was so much fun to learn about Anne's area of expertise: clotheslines. Anne is a clothesline historian and hobbyist and is truly an expert in everything and anything related to clotheslines. Anne regularly presents programs on clotheslines to area community groups at senior centers and senior living communities.
Clotheslines may seem an unusual subject for presentations, but if you ever have the chance to hear Anne talk, we highly recommend attending. Anne's impressive collection of clothesline memorabilia and her stories will likely bring back many fond memories of your childhood and of simpler times.
Anne says she "gets a tremendous amount of joy and nostalgic warm memories" presenting to community groups. She herself has wonderful remembrances of her mother and grandmother hanging clothes out to dry. At her programs, those in the audience invariably start smiling and nodding their heads as Anne recalls the days when everyone in the neighborhood used clotheslines. Typically those attending share their own wonderful memories and the program becomes more interactive.
Anne's talk continues to evolve as she keeps learning more and as the use of clotheslines has become part of our environmental consciousness. Sales of dryers are actually decreasing somewhat while sales of clothes racks are increasing.
Unfortunately may condo and homeowner associations restrict the use of clotheslines, but Anne is hopeful that will change. Project Laundry List is a national organization that promotes the use of clotheslines with more information available at laundrylist.org.
Anne is offering a mini-course on clothesline this fall as part of the Osher programming called "The Love, Lure and Lore of the Clothesline".
To listen to this 13-minute talk, click the audio link:
To get in touch with Anne, call 734-369-4841.