Posted on
Mon, Nov 7, 2011 : 5:57 a.m.
Washtenaw Health Initiative to improve access to coordinated care for those in need
By Alan Caldwell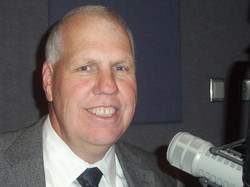 We talked about two very important and very different health initiatives on the radio show this weekend — the Washtenaw Health Initiative and the Eliminate Project.
Tom Biggs is with Packard Health, where he is the Interim CEO. Packard Health is a safety net provider, the largest in the Ann Arbor area, serving 9,000 patients annually. This primary care provider welcomes all patients. Packard Health also provides nutrition counseling, social work services, patient advocacy and even a food pantry.
Tom is very involved with and very excited about, the Washtenaw Health Initiative. This is a voluntary community effort. The project is about improving access to coordinated care for the low-income, uninsured, and Medicaid populations. In 2014, with the Affordable Care Act, Medicaid will cover many more patients.
There are 55,000 uninsured in the county today that will have health care coverage in 2014. This population should be able to receive care in a more traditional setting, not in emergency rooms or urgent care facilities (which have higher costs).
Many of these patients are elderly and have special care needs. The Washtenaw Health Initiative is working to establish primary care sites to take care of these groups.
The initiative is very well supported by both the University of Michigan Health System and St. Joseph Mercy Health System, as well as numerous other providers including Packard Health. The Center for Healthcare Research and Transformation is pitching in with support services.
Tom is very optimistic the effort will be successful. "We are getting things done," he said.
To listen to our 13-minute discussion, click the audio link:
To get in touch with Tom Biggs or Packard Health, call 734-971-1073, or visit their website packardhealth.org.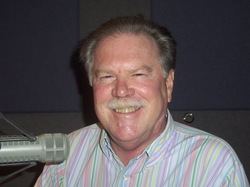 Photos by Sheila Doeden
We were also most pleased to have Ron Gardner with us. Ron is the immediate past president of the Kiwanis Club of Ann Arbor. The Kiwanis is a service club with 600,000 members across the U.S. and around the world. The Ann Arbor club is the largest in the state of Michigan with 172 members and continues to grow each year.
The club provides a terrific opportunity to contribute to the community. Many of the members and volunteers are seniors that are retired and are looking to help locally.
At the Kiwanis, Ron is the Chair of the Eliminate Task Force. The objective of the new Eliminate Project is to eliminate maternal and neonatal tetanus (MNT) by the year 2015.
MNT is not a problem in our country, but it does affect people in remote parts of the world in 38 countries. Every year 100,000 mothers and newborn babies die because of MNT.
This tetanus is contracted when mothers give birth in unsanitary conditions. But there is a very effective vaccine that eliminates this risk. It costs only $1.80 to treat and protect each mother.
Kiwanis has partnered with UNICEF in this effort, and is now raising the required $110 million. The Kiwanis Club of Ann Arbor is one of three clubs in the world that has committed to raise $100,000 for this project by the year 2015.
Ron is convinced the project can and will eliminate the risk of MNT from this world. He is busy organizing many fundraisers, and is clearly very committed to this cause.
To listen to this 13-minute talk, click the audio link:
To contact Ron Gardner or the Kiwanis Club, please call 734-665-2211, or visit the website a2kiwanis.org.
Alan Caldwell and Sheila Doeden co-host Everything Elderly every Saturday morning at 8:30 on 1290 WLBY. In their day jobs, Alan and Sheila co-own and co-manage Senior Helpers, providing in-home care services, primarily to the elderly. Both can be contacted at homecareexcellence@seniorhelpers.com, or at 734-927-3111.