Posted on
Fri, Nov 4, 2011 : 8 a.m.
Weekly PBS show to include reports on cancer topics
By Betsy de Parry
It's a first! Next week, reports about a variety of cancer topics come to TV every week as a regular part of the weekly, half hour PBS show A Wider World!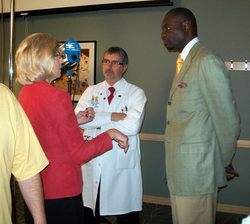 Alex de Parry
You'll hear from some of the leaders in the field who'll be sharing valuable information and ideas to help us all through and beyond cancer. And the leaders are all from right here at the
University of Michigan Health System
!
You'll also hear from some exceptional survivors.
On the air since 2000, A Wider World has been the only regularly scheduled TV show about disabilities, but its focus is on abilities.
Each week, the show introduces viewers to others who have overcome obstacles and misconceptions and delivers information designed to improve the lives of those who face challenges.
Beginning next week, part of each show will be devoted to those who have faced or are facing a specific challenge: cancer.
I had the privilege of producing these reports, and it was one of the most awesome experiences I've ever had because the U-M experts I interviewed taught me so very much - and now you're about to learn. I was especially struck by their genuine interest in helping those of us who face cancer to become more informed, and I am ever so grateful to all the participants for taking time out of their busy schedules to share their knowledge so that it can be shared with you.
The first two shows feature U-M hematologist/oncologist Dr. Harry Erba and pathologist Dr. Kojo Elenitoba-Johnson, whom I interviewed for the "Know Thy Pathologist" article earlier this year. It's a must read for understanding why pathology's importance can't be overstated.
Dr. Erba and Dr. Elenitoba-Johnson will also be featured on another show discussing how oncologists and pathologists work together (very enlightening!).
Other future topics include survivorship, second opinions, medical imaging, parenting, clinical trials, pain management, children's issues and much, much more, but I don't know the order in which they'll air. In fact, I'll be seeing the show for the first time next Tuesday!
As I learn the order of the shows, I'll update my website and post to my Facebook page, so find me there if you'd like to stay updated.
SHOW TIMES: A Wider World airs on PBS stations throughout Michigan and several other markets in the U.S. and Canada. Here in Ann Arbor, it airs on Tuesdays at 5:30 P.M. on WTVS (Channel 6 if you have Comcast).
These reports are a unique opportunity to learn from some of the best in the field of cancer, so set your DVR's if you can't be near a TV when they air.
Click here for more information including a complete list of stations and a few "behind-the-scenes" photos with several of the participants you'll see in upcoming reports.
Betsy de Parry is the author of Adventures In Cancer Land, just released this week! Find her on Facebook or email her.