Posted on
Mon, Oct 17, 2011 : 5:57 a.m.
Changing the way people look at end of life
By Alan Caldwell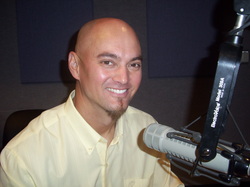 We had the good fortune to have two guests from Peaceful Crossings with us on the radio show this weekend. Callan Loo is the president and Tamara Sutton is the director of coaching services. As Cal explained, Peaceful Crossings was "created to make the idea of death not so scary, the mission is to improve the way society views and plans for death."
While they offer many products and services, we focused our discussion on the Peaceful Crossings Plan. This service is about planning out your own legacy, and it's really not about dollars. Each of us has lived a life, and we leave a legacy. This legacy is the ripple effect of our life, how we have affected our family, friends and the whole community.
Photos by Sheila Doeden
The Peaceful Crossings Plan seems a good value at $329, especially as it includes three hours with a certified legacy coach. The coaching is important as it helps to educate on the many options and alternatives available. Interestingly, as Tamara added, when people go through the planning kit process, they start to think more about their life, what conversations they need to have, and what else they still want to do with their life.
The workbook and storage folio that are the core of the plan become very valuable at end of life. Family loved ones have the important financial and legal documents, as well as a clear direction on the preferences for the memorial service.
Cal shared how one client didn't want a memorial service at all. The client reconsidered after they talked through how the service can be very helpful for those you leave behind. It's an opportunity to grieve and celebrate your life.
We also had an opportunity to talk with Tamara about grief coaching. She stressed the importance of "leaning into your grief." You have to actively participate in the process. Keeping a journal of your feelings can be really helpful. There is also joy in the grieving process, remembering the good times, keeping the memories alive.
To listen to the first half of our 25-minute talk with Callan and Tamara, click the audio link:
To continue with the second half, click the audio link:
To get in touch with Callan Loo, Tamara Sutton, or Peaceful Crossings, call 888-732-2346, or access their website peacefulcrossings.com.
Alan Caldwell and Sheila Doeden co-host Everything Elderly every Saturday morning at 8:30 on 1290 WLBY. In their day jobs, Alan and Sheila co-own and co-manage Senior Helpers, providing in-home care services, primarily to the elderly. Both can be contacted at homecareexcellence@seniorhelpers.com, or at 734-927-3111.