Posted on
Mon, Aug 22, 2011 : 5:57 a.m.
Personal experience provides grief coach with insights to help others
By Alan Caldwell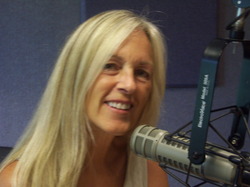 Photo by Sheila Doeden
One of the neat things about hosting our Everything Elderly radio show is the wonderful guests we get to meet each week. Tamara Sutton is quickly becoming a good friend and someone we greatly admire for her helpful insight. Tamara is a grief coach, a life coach and an author and works with a company called Peaceful Crossings.
Tamara initially got involved with grief coaching back in 1994, at Ele's Place. That organization provides grief counseling to children who have lost loved ones and has centers in Lansing and Ann Arbor. A couple years later, Tamara experienced the unfortunate death of her 23-year-old son. Coping with, and learning from this tragedy, greatly increased her personal passion for grief coaching.
Our discussion focused on the grieving process. Tamara has a keen, unique perspective on this important aspect of life. Tamara confidently and convincingly seems to really understand grief.
Tamara talks about approaching the grieving process with open arms and an open mind. Everyone has his or her own way to deal with grief. People often want to get back to normal, to get back to what their life used to be, but that doesn't happen. Each of us should redefine our new normal and not fight to get back to what we used to have. And grieving isn't easy at all. "Nothing is harder than grieving," she says. Conserving your strength and energy is important.
Tamara works as a grief coach for a company called Peaceful Crossings. They focus on helping people create their legacy, to plan for their end of life. Peaceful Crossings helps people get organized to give peace of mind, and so they can then fully live the rest of their life.
To listen to the first half of our 25-minute talk with Tamara please click the audio link:
To continue with the second half, please click the audio link:
To get in touch with Tamara Sutton, call 517-896-3173, or access her website tamarasutton.com.
Alan Caldwell and Sheila Doeden co-host Everything Elderly every Saturday morning at 8:30 on 1290 WLBY. In their day jobs, Alan and Sheila co-own and co-manage Senior Helpers, providing in-home care services, primarily to the elderly. Both can be contacted at homecareexcellence@seniorhelpers.com, or at 734-927-3111.