Daily Dose of Health News:

Pfizer advancing on drug that could be Viagra for women

Posted on Wed, Apr 14, 2010 : 9:57 a.m.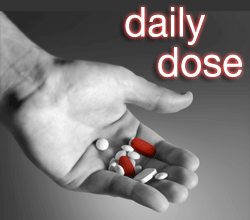 Here's a look at some of the top health news being talked about around the U.S. and the world today:
• Pfizer believes it may be a step closer to creating a treatment for a certain type of sexual disfunction for women. If successful, it could be the equivalent of a Viagra for women, ABC News is reporting.
• There was a sharp decline in the number of women worldwide who die from childbirth annually over the last 30 years, according to an article published in the journal Lancet. Researchers say the progress is likely due to lower pregnancy rates in some countries, higher income, more education for women and the increasing availability of "skilled attendants" to help women give birth, the New York Times reported.
• Some epilepsy drugs appear to increase the risk in some patients that they will attempt a suicide, Reuters reported.
• Researchers believe they have found a gene that doubles a person's risk of developing late-onset Alzheimer's disease, the Miami Herald is reporting.