Posted on
Fri, May 20, 2011 : 8 a.m.
Book helps children cope with a parent's cancer
By Betsy de Parry
As if having cancer weren't hard enough, parenting with it is even harder. How does anyone explain to children that mom or dad is bald or doesn't have the energy to play? How do parents understand how children feel, much less know how to open a conversation about cancer and help children begin to understand their own feelings?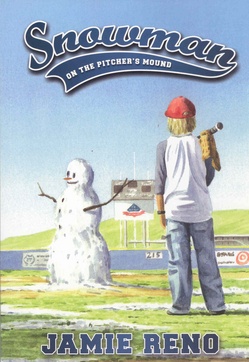 Jamie Reno
A book by award-winning journalist Jamie Reno helps parents do just that. "Snowman On The Pitcher's Mound" is written from the viewpoint of 10-year-old Tyler Paulson, a Little Leaguer from Iowa whose mom has relapsed and whose grandfather died from cancer.
Throughout, Tyler's own voice speaks in a thoughtful, life-affirming and sometimes humorous way, guiding young readers and their parents how to understand and cope with the natural feelings of anger, frustration, sadness and fear when facing illness and loss.
Inspiration for the book came from the author's own experience. As a 15-year cancer survivor and the father of a daughter with whom he has many conversations about what it's like for her to have a father who has battled cancer, Jamie says, "A child is often the forgotten victim when a parent gets sick. Children have so many questions and emotions stirring inside and often have nowhere to go with these feelings. I wanted to facilitate a dialogue that may not otherwise take place."
Indeed, this book provides an ideal launching point from which to open a dialogue about a child's reactions to illness and loss. Full of teachable moments from beginning to end, it's a tool for the entire family to engage in discussions that will help children express their feelings and help parents gauge them.
When cancer strikes, "Snowman On The Pitcher's Mound" is a must-read for every family who has young children.
The book can be ordered through its website where there are additional resources and activities for children.
Listen to Jamie along with hosts Scott Seaman and Charlene McMann Seaman on Battling and Beating Cancer for a fascinating and lively conversation about his books and his life as a cancer survivor, including parenting with cancer.
About the author: Talented and versatile, Jamie Reno is a 25-year journalism veteran who has earned more than 80 writing awards from the Society of Professional Journalists and the San Diego Press Club. He is also the author of "Hope Begins in the Dark: 50 Lymphoma Survivors Tell Their Exclusive Life Stories." (Full disclosure: I am one of the survivors who told Jamie my story.) And Jamie is a singer-songwriter-guitarist who's performed and recorded with such artists as Peter Frampton, Charlie Daniels, and members of The Eagles, Chicago, the Beach Boys family, Allman Brothers, Little River Band and Steely Dan.
Next Friday, May 27: NCCN Is A Treasure Trove of Information About Treatments
Previous installments of Candid Cancer are archived here.
Betsy de Parry is the author of The Roller Coaster Chronicles, a book about her experience with cancer and the shorter, serialized version she wrote for annarbor.com. Find her on Facebook or email her.