Posted on
Thu, Aug 5, 2010 : 8:30 a.m.
Ann Arbor area residents challenge themselves to lose big in Boot Camp with 'Biggest Loser' Pete Thomas
By Pete Thomas
Lose-BIG Boot Camp with Pete Thomas
Hey there! Have you started moving? Are you working out at 85 percent of your maximum heart rate or above? (See our last blog post for details.) If so, fantastic! If not, today is the day to start.
If you're having difficulty getting started, or if you've started but find yourself slacking off, there is one critical key I would like you to implement:
Gather great teammates There is no way I could have achieved and maintained my weight loss without a great team of people supporting me. At the Biggest Loser Ranch, the workouts were incredibly hard and the days were incredibly long. The one thing that allowed me to get through the most challenging times was the support of my teammates.
On the ranch, my teammates were Mark, Seth, Dr. Jeff, and Matt—and we were all together for more than 30 days straight—and these guys drove me to work out even when I felt like a slug.
Growing up, however, because of my mother's mental illness, I was often transient and on the go from one town to another. So I never played any team sports and I never learned the principles of "teammates." I had no idea what a powerful force great teammates could be.
That's why in my class that's one of the main principles I teach: In order to be successful at weight loss, you must have a great team around you. The team atmosphere was the 'secret sauce' at the Biggest Loser ranch, and I also believe it is what causes my students to lose massive amounts of weight.
Molly and Sean, a couple in my class who recently lost a combined 110 pounds, experienced the power of teammates firsthand: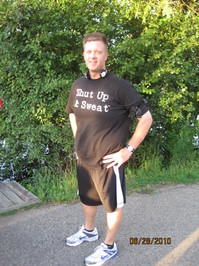 "Sean and I have been married for almost four years, and both of us have struggled with our weight for far longer than that. Six months ago, we decided to take Pete Thomas' class, and it has changed our lives. As a married couple, we don't always agree on everything, but we definitely agree that a large part of our weight loss success these past six months is because we've been on this journey together.

One of the key principles that Pete teaches is the importance of having supportive teammates—and for us, that means holding each other accountable for eating healthy food, tracking calories, and getting the exercise we need, whatever the time of day. It's been much easier for us to stick to our plan consistently because we feel responsible not only for our own decisions and results, but also for helping the other person be their best.

It's extremely helpful to have someone to talk to who is going through the same challenges, experiencing similar concerns, and sharing the same successes. Some of the specific things that my husband and I do to help each other are:

Provide the encouragement needed to wake up early and exercise when one of us is feeling a little less motivated. (I've told Sean he has my permission to shove me out of bed when my alarm, set for an early morning workout, is being ignored.)
Look up a restaurant's menu online and send the link to the other so we can plan what we'll order. Pete taught us that we have to be able to eat anywhere.
Give heaps of praise to the other person when one of us experiences small victories. Some examples include Sean telling me that he fit into pants he hadn't worn in five years, and me telling Sean that I'm down to my 1994 (pre-first baby) weight.
Keeping "trigger foods out of the house!" Early on I told Sean that ice cream and other frozen treats are trigger foods for me. There hasn't been so much as a popsicle in the house since then—with absolutely no complaints!

Our weight-loss journey has not been easy, but it hasn't been as hard as we thought it would be, either. And it's because of the unwavering support of our teammates.
Jacquata Lee, one of my students-turned-coach, has also learned firsthand the difference teammates make: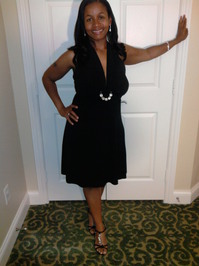 I lost a total of 88 pounds as a result of Pete's class, and now I am taking the knowledge I've gained and paying it forward by serving as one of the coaches for the Boot Camp. I truly believe that having great teammates set the foundation for my success. I had people who were supportive of me and pushed me to work out even when I didn't feel like going to the gym. I now know that in order to be successful, you need good teammates; whether they are teammates that meet you for workouts or offer healthier food choices.
Establish your team Do you have teammates? Unfortunately, weight loss is one of those things individuals try to do alone. As I often say, "Don't be a dumb dumb." Gather great teammates!
Trust me, I know what I am talking about. But don't fret, I'm on your team, and together we can do this!
It's never too late Yes, it is the beginning of August, but your health and fitness goals for 2010 are STILL within your reach! Stay tuned and keep watching as we witness the creation of Ann Arbor's newest "Biggest Losers!"
Check back with us next week as my student and Boot Camp participant Mike Mazurek blogs about his encouraging weight-loss journey!
And if you're in the area and up for the challenge, join us at our workouts at 8 a.m. Saturday at the track at Ypsilanti High School and at 8 p.m. Mondays at Gallup Park in Ann Arbor. To receive information about the workouts, send us a blank e-mail, or you can check out our events on Facebook. If you have questions, please feel free to e-mail me at questions@winningman.com.
Finally, it doesn't matter if you've tried to lose weight before and failed again and again. You can lose it fast and lose it forever. Take it from me, there's a Winner Within You!
Pete Thomas is the Season 2 at-home winner of NBC's "The Biggest Loser." He is a full-time motivational speaker, teacher, coach, and consultant. Learn more about Pete at www.WinningMan.com.