Posted on
Wed, Apr 11, 2012 : 12:59 p.m.
Prescription for Health: Program makes fruits & vegetables more accessible for patients on a limited budget
By Washtenaw County Public Health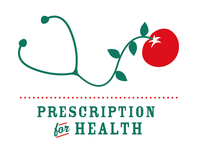 Medical providers often tell their patients to eat better to prevent or manage conditions such as diabetes, high blood pressure and overweight. But what happens when they know their patients struggle to eat healthy foods because of cost or a lack of grocery stores in their area?
Providers at "safety net" clinics are keenly aware of the barriers that can make their medical advice for healthier eating difficult or impossible for their patients to follow.

Enter the Prescription for Health program. Funded by the Kresge Foundation and coordinated by Washtenaw County Public Health, the program connects local health clinics to local farmers' markets to improve patients' access to fresh fruits and vegetables. Last summer, 311 low income patients from five local safety net clinics participated. Many of these patients suffered from at least one chronic condition and had difficulty affording food.
A variety of health care providers — nurses, social workers, physicians and patient advocates — helped implement the program at the five participating clinics. Many said it gave them an important tool to pair with nutrition education for their patients trying to eat healthier with limited financial resources.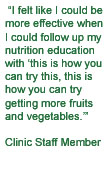 Most of the time you get this "blank" look and people say they can't afford it [fruits and vegetables], but this meant no excuses.
—Clinic Staff Member
Participating clinicians wrote "prescriptions" for their patients based on food insecurity, chronic disease risk and interest. Patients received coupon books to take to the farmers' market and exchange for tokens to buy fruits and vegetables. At the farmers' market, patients also had the opportunity to consult with a registered dietitian and received recipes featuring in-season produce.
Staff at the collaborating clinics reported that the program was easy to use and personally rewarding. Many described the importance of offering a "tangible" benefit to help support dietary change, which often "doesn't happen easily." One physician said that "[There is] a common misperception that farmers' markets are for the wealthy," and this program helped debunk that myth.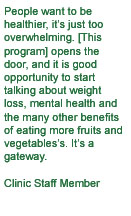 Best of all, the program had a positive impact on patients' health. The average daily consumption of fruits and vegetables increased by nearly one cup per day from pre- to post-program (mean=0.7, p<.001). Overall, 96 percent of participants interviewed after the 2011 season said visiting the farmers' market helped them or their family members eat more fruits and vegetables, and 98 percent said they were likely to visit the market in the future.
Eligible Prescription for Health patients were also connected to other farmers' market programs for customers with low income such as Double Up Food Bucks and Electronic Benefits Transfer (EBT) of food stamp benefits.
More details about Prescription for Health are available online
Special thanks to Washtenaw County Public Health's clinic and farmers' market partners: Neighborhood Family Health Center, Packard Health, The Corner Health Center, New Hope Outreach Clinic, the Downtown Ypsilanti Farmers' Market and Westside Farmers' Market.
For more information, contact Jenna Bacolor, PFH coordinator, at bacolorj@ewashtenaw.org or 734-544-2969.