Daily dose of health news:

Protect little ones' hearing the Drew Brees way; low fat beats low carb long term

Posted on Mon, Mar 1, 2010 : 5:06 p.m.
Here's a look at some of the top health news being talked about around the U.S. and the world today: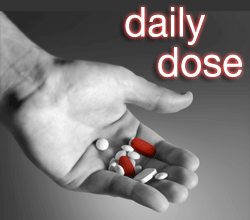 • When Drew Brees held aloft his 1-year-old son after the New Orleans Saints won the Super Bowl last month, audiologists were pleased to see the child wearing earmuffs. In protecting his son from the din in the stadium, Brees was doing what more parents should be doing, a New York Times article says. Infant and toddler ears are more susceptible to damage from loud noise than older children and adults, the article says.

• Another article in today's New York Times has some bad news for dieters: Small changes in diet or exercise usually don't amount to much in terms of weight loss.

• Dolphin therapy is a growing business, The Washington Post reports, despite concerns about its effectiveness and whether it amounts to animal cruelty.

* A new study shows low-fat diets beat low-carb diets for long-term effectiveness, the Atlanta-Journal Constitution reports. The bad news: Neither group in the study managed to keep a large amount of weight off.