Protecting yourself against heart disease could be helped by a positive attitude
Posted on Thu, Feb 18, 2010 : 11:16 a.m.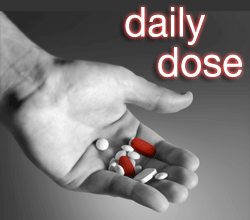 Here's a look at some of the top health news being talked about around the U.S. and the world today:
• Putting a smile on your face could be a step toward protecting your heart. U.S. researchers say they've observed an "independent relationship between positive emotions and coronary heart disease," Reuters reported. More research is needed to show why people who tend to be happy are less likely to develop heart disease.
• The U.S. Food and Drug Administration is warning consumers to pay close attention to the Maalox they purchase. Two similarly packaged versions of the over-the-counter antacids called Maalox Advanced and Maalox Total relief actually have specific differences that have led to "mix-ups" and "reports of five adverse reactions," the Los Angeles Times health blog reported.
• Use of high-tech medical tests, surgeries and prescription drugs has skyrocketed in the past decade, and American are living longer. But experts are debating whether all this extra health care spending is resulting in better health.