Posted on
Mon, Feb 20, 2012 : 5:57 a.m.
Improving health of local real estate market good for seniors
By Alan Caldwell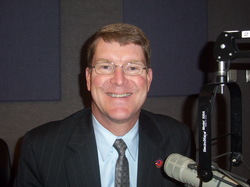 We heard an encouraging update on the local real estate market from Vance Shutes on the radio program this past weekend. Vance is a realtor with Real Estate One and has been in the residential real estate business for 18 years. Among his clients, he helps seniors sell their homes, maybe downsizing to a condo or maybe moving to a senior community.
In the Ann Arbor area, home prices were up about 3 percent last year, and Vance expects about the same improvement this year. We learned that many recent properties on the market have received multiple offers. Buyers are out looking and interest rates are certainly helping, now in the low 4 percents for fixed-rate mortgages.
Selling a home, Vance talks about "the three P's — preparation, presentation and price". Prepare your home with a thorough inspection and decide what needs fixing up. Vance strongly encourages his sellers to de-clutter their home. Rent a storage locker and remove some furniture and store the excess bric-a-brac. This will make your house look bigger.
For presentation, the house needs to be neat and tidy, you want to set the right ambience (the smell of fresh baked cookies is always a nice touch). As Vance says, use "counter intelligence", keep your kitchen and bathroom counters clean with almost nothing on them.
If the price is consistent with the amount of preparation and the presentation, your home will sell.
We talked about foreclosures and how they can be a good option for investors or someone looking for a fixer-upper. Vance thinks we've seen the bulk of foreclosures in this area, and the inventory in Washtenaw County should steadily decline.
To listen to our 13-minute talk, click the audio link:
To get in touch with Vance or Real Estate One, call 734-476-2063 or visit Vance's website at salinemichiganrealestate.com.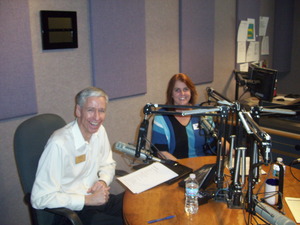 Photos by Sheila Doeden and John Bommarito
This past fall, Sheila and I presented a program on home health care to the Kiwanis Club of Ann Arbor. We received considerable positive feedback and thought we'd share this information on the radio show. Our experience is that most people are not aware of what home health care can provide and how it can help their family and loved ones.
There are three types of home health care — non-medical, skilled medical and hospice care. The non-medical is primarily personal care, helping folks with bathing and dressing, and transferring assistance (in and out of a wheelchair or bed). This care frequently includes meal preparation, medication reminders, as well as housekeeping and laundry. Non-medical care is generally paid for by the families, with the cost about $18-$22 per hour.
Skilled medical care is primarily home visits by registered nurses, occupational therapists and physical therapists. Medicare pays for this service for home-bound patients making progress recovering from a surgery or illness. This care is normally provided for six to eight weeks.
Most people are aware hospice care is for the later stages of life. But many people think hospice is just for the last few days of life, and that is unfortunate. Hospice care can be provided for six months or even longer. Hospice is not about dying; it's about ensuring a good quality of life of comfortable peaceful days, enjoying your family at home.
Vance spoke of his home health care experience with his elderly parents, as his father's health declined and he passed away last year. Vance shared how the caregivers and hospice staff "are simply wonderful people, it's clearly a calling."
To hear this 13-minute discussion, click the audio link:
Alan Caldwell and Sheila Doeden co-host Everything Elderly every Saturday morning at 8:30 on 1290 WLBY. In their day jobs, Alan and Sheila co-own and co-manage Senior Helpers, providing in-home care services, primarily to the elderly. Both can be contacted at homecareexcellence@seniorhelpers.com, or at 734-927-3111.