Posted on
Mon, May 21, 2012 : 8:15 p.m.
Real firefighters wear pink: Local women walk for the cure
By Jeff Jackson
I cycled into the village of Clinton Sunday morning, and it didn't appear that there was much going on downtown…until I glimpsed two men down the street in a Clinton Fire Department truck wearing pink shirts and holding pink balloons.
Naturally, I was intrigued.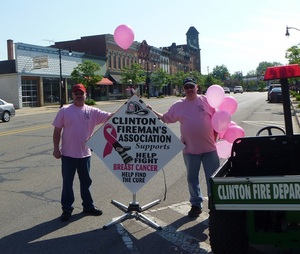 Jeff Jackson | Contributor
I had a hunch about what was going on, which was confirmed when we exchanged introductions and I got a closer look at those shirts. Sure enough, the firefighters were fundraising for breast cancer research. They told me to check out the activity at the fire station, where there was more information, and plenty of baked goods. (I would have gone there anyway, but that sealed the deal.)
At the fire station I met Kathy Reiser, one of four local women who will be participating in Michigan's Susan G. Komen 3-Day Walk this year. This event is a 60-mile walk over three days (20 miles per day) in locations throughout the country; the Michigan event will be held Aug. 17-19. In order to walk in the event, she told me, she needs to raise $2,300. This is the third year she will be walking, as captain of team Patti's Pink Warriors.
"I'm passionate about this," she said, as if there were any doubt.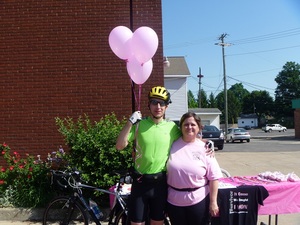 Photo by Shelly Seay
Reiser is looking forward to this year's walk, although she admits it's a challenge."That third day is the toughest," she said, a sentiment I can confirm from my three-day weekend bike rides this month. She prepares for the event by walking regularly, with a training goal of at least 600 miles. And the passion for good causes runs in her family; her daughter-in-law will do a one-day 100-mile bike ride to support leukemia research.
According to the program website, 75 percent of the net proceeds raised by the 3-Day events fund national research and outreach programs, with the remainder funding local community and affiliate outreach programs. Komen came under some controversy earlier this year when it ended grants for Planned Parenthood breast screenings (a decision it has since reversed), but the women I spoke with didn't voice any doubts about their support for the cause or the fundraising walk.
The other three women (Shelly Seay, Kristy Hall, and Becki Woerner) will be walking the 60 miles as team "Band-Aid Bandits," assuming they meet the goal of raising $2,300 each. To them, breast cancer is personal; they are all walking in support of, or in memory of, family and friends who have breast cancer or have died from the disease. (The list for the Band-Aid Bandits team has 81 names.) They told me about the importance of getting screened so any cancer can be detected in its early stages where the chances of beating it are highest.
The firefighters I spoke with will not be walking, but they will be working the walk by helping to staff the aid stations and water stops. (As a marathon runner, I can attest to the love I have for the folks holding the Gatorade.) This is the first year they have supported the 3-Day. In addition to direct donations, they raised funds through sales of T-shirts.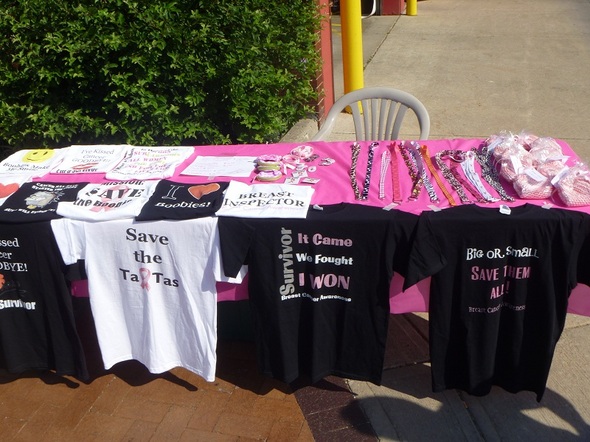 Jeff Jackson | Contributor
Sunday was the final day that the firefighters were holding their fundraising event in Clinton. According to the website, Shelly has met her goal, but Becki and Kristy still have a ways to go, as does Kathy, although she's confident she'll get there. If you'd like to support them, go to the website, and on the main page, click "Donate" and then, "Search for a Participant" or "Search for a Team."
I won't say whether I purchased a shirt during my visit, but you just might want to check out my personal blog in a couple of days. And the brownies were excellent.

Jeff Jackson is a runner, cyclist, and student of Aikido who writes the Fitness at 50 blog. His other interests include history, writing, and food (especially coffee, bread, and chocolate). He can be reached at jeff@fitnessat50.net.