Daily dose of health news:

Researchers believe they've found link between high-fructose corn syrup and non-alcoholic fatty liver disease

Posted on Mon, Mar 22, 2010 : 10:36 a.m.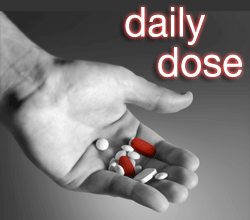 Here's a look at some of the top health news being talked about around the U.S. and the world today:
• Consumption of high-fructose corn syrup has been linked to cases of liver damage in people who have non-alcoholic fatty liver disease. It's not clear whether the liver scarring was caused by the sweetener, according to an article about the study in Business Week. The corn refiners industry questioned the findings, saying the study looked at a wide range of sources of fructose - not just those sweetened with high-fructose corn sugar.
• Researchers have created robots so small they can "travel through a patient's blood and into tumors" to deliver treatment, according to an article in Reuters. The hope, according to the piece, is to unlock the key to working with RNA to reverse disease processes.
• Infants in the U.S. aren't getting enough vitamin D and should take supplements, a government report said. As reported by the Palm Beach Post, a lack of vitamin D has been linked to diseases like cancer, type 1 diabetes and repiratory problems.
• Certain types of blood cancer could be triggered from signals in surrounding bone cells in a finding that could create new approaches for treating leukemia, researchers told Reuters.